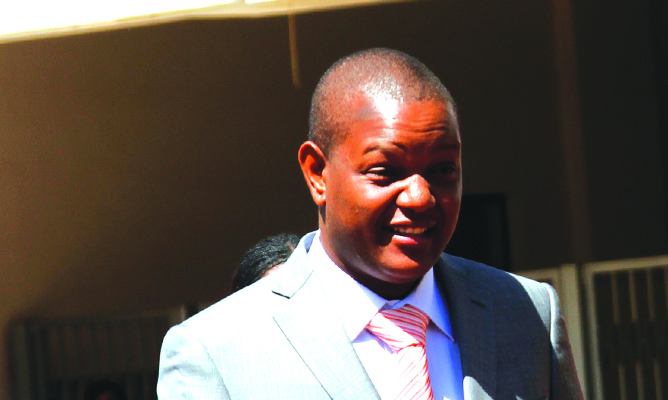 FORMER First Lady Grace Mugabe's son from another marriage, Russell Goreraza , who parted ways with his wife, Gladys Chiedza (nee Chiwaya) in November last year, is set to lose property following his failure to settle a $970 legal fees bill. BY CHARLES LAITON
According to the court papers, when Goreraza filed for divorce against Gladys in 2015, the parties signed a consent agreement in which Russell agreed to foot the legal costs of the suit which eventually amounted to $969,90 as awarded by the court on November 23 last year.
However, efforts by Gladys's lawyers, Sibanda and Partners, to recover the money proved futile prompting the law firm to approach the court for recourse and a writ of execution was issued on January 18 this year.
The writ, signed by the Registrar of the High Court, read in part: "To: The Sheriff of Zimbabwe or his lawful deputy: You are required to attach and take into execution the movable property of Russell Goreraza the above-mentioned plaintiff of Number 22 Kent Road, Chisipite, Harare, and of the same cause to be realised the sum of $969,90 for the above-mentioned plaintiff being costs of suit on party-party scale awarded by judgment of this court dated November 23, 2017 in the above-mentioned suit…" According to the court papers, the former First Lady's son filed for divorce against Gladys in 2015 and the matter was only heard in November last year after the parties agreed to part ways.
Goreraza claims he and Gladys had irreconcilable differences and were incompatible with each other to the extent that they had not lived as husband and wife for the past two years.
After receiving the summons, Gladys, through her lawyer Donald Sibanda, entered an appearance to defend in December 2016 and on March 23, 2017 she signed consent papers bringing an end to the couple's holy matrimony.
In the consent papers, Goreraza also undertook to support his minor child by paying $500 per month as maintenance and also being responsible for the child's school fees and medical aid while the custody of the minor would remain with Gladys.