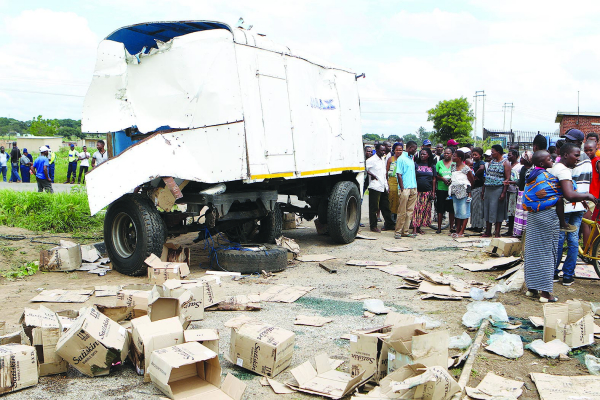 Three people were killed, among them two pupils, when they were hit by the runaway trailer of a cross-border bus travelling to Harare from South Africa.
BY MUNESU NYAKUDYA
The accident happened in the morning near the Chitubu area in Glen Norah, Harare.
Two Glen Norah One High female pupils, who were on their way to school, and another man died, when the grocery-laden trailer affixed to a Jarax Bus broke loose before hitting the victims.
Witnesses said two of the victims died on the spot and the other died on the way to hospital.
"It seems the driver was speeding and then failed to steer over a speed a hump," a witness, who only identified herself as Mrs Phiri, said.
"The trailer broke loose and went on to hit two pupils and one man, who is said to be a vendor. One of the girls and the man died on the spot and the other died on her way to the hospital."
Another witness said the trailer was overloaded with goods. She said the driver decided to use a different route to avoid a traffic jam at the Mbudzi roundabout.
National police spokesperson, Senior Assistant Commissioner Charity Charamba confirmed the incident. "There was an accident, but I am yet to gather full details," she said.