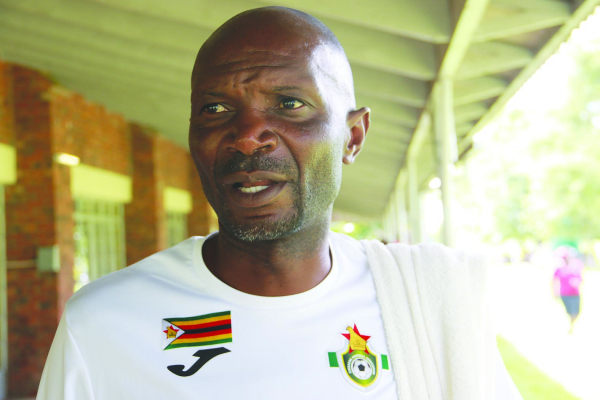 FORMER Warriors and Dynamos coach Kalisto Pasuwa will return to the limelight when he takes charge of the "Players Out of Contract" training camp organised by the Footballers' Union of Zimbabwe (FUZ) in Harare next week. BY HENRY MHARA
The annual camps, which offer professional players, who are out of contract, a platform to showcase their talents in front of premiership coaches, club administrators and scouts, will be held in Harare and Bulawayo.
Pasuwa, who has taken a backseat from football since leaving the Warriors coaching job around this time last year, will take charge of the training camp in the capital which runs from Tuesday to Saturday.
This will be the first time that the coach, who won the premiership four consecutive times with Dynamos in a run that started in 2011, will be back in the spotlight since his divorce with Zifa.
In Bulawayo, the camp will start on Tuesday, January 16, and will run for three days.
Former Warriors stars Dazzy Kapenya and Joel Luphahla will conduct the programme.
"The main aim of this project is to help professional footballers who have not yet signed contracts with any team in the search for a new club," FUZ secretary-general, Thomas Sweswe said.
"Players will be offered a comprehensive training programme, which will include friendly matches on the last day.
Coaches from different clubs in the premier league and a number from Division One, physical trainers, var ious football administrators, referees and dieticians are set to attend.
"A number of stakeholders in the football fraternity will be given a platform to address players on contract negotiations, contractual obligations, health and hygiene, expectations of referees and people from the media will talk to them on the face of football from the media's angle."
FUZ, which deals with the welfare of former and current players, will address players on matters to do with contracts, and the relationship which should exist between a player and a club.
"For this year, the main emphasis of the discussion will be on stopping drug abuse, as the union has noted with great concern the increase in drug abuse by players, both male and female," Sweswe said.
"The findings came during the annual club visits, where players revealed the increased use of 'bronco' [Bron Cleer], Diazepam and other drugs. The programme is free for all professional players, as this is a FUZ initiative."
Some of the players who got themselves contracts after taking part in this initiative include Guthrie Zhokinyi, Byron Madzokere, Benjamin Marere, Ebabali Yves and Willard Kalongonda.
Coaches, who have participated include Tonderai Ndiraya, Darlington Dodo, who now coach at Ngezi Platinum and Tsholotsho, respectively.