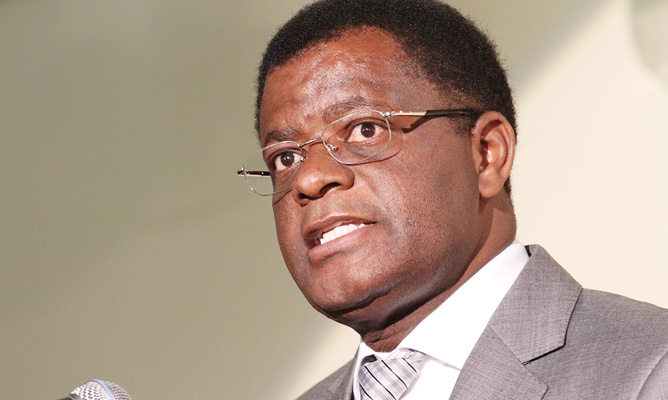 Former NetOne chief executive officer Reward Kangai, who is facing 20 counts of criminal abuse of office and concealing personal interests in a transaction from his principal, was yesterday granted $800 bail by a Harare magistrate.
BY DESMOND CHINGARANDE
Kangai (61) was not asked to plead when he appeared before magistrate Rumbidzai Mugwagwa, who remanded him to January 31 pending finalisation of investigations.
As part of his bail conditions, Kangai was ordered to report once a week at Borrowdale Police Station, to surrender his passport, not to interfere with State witnesses and to reside at the given address.
The complainant is NetOne represented by its acting chief executive officer Brian Mutandiro.
It is the State's case that during the period extending from 2009 to December 2015, Kangai, being a public officer on four different occasions allegedly handpicked and procured several service providers for NetOne without following due tender processes as outlined in the Procurement Act Chapter 22:14.
The State alleges sometime in October 2014 Kangai unlawfully and corruptly sanctioned payment of rentals in advance to four base stations landlords without authorisation and approval from the board of directors of NetOne Cellular (Pvt)Ltd.
It is alleged Kangai showed favour to Bopela Family Trust by sanctioning the advance rental payment of $10 500, covering a period of 21 months, Richwood Sports Club in the sum of $33 000 covering five years, Avondale Christian Church $27 000 for three years and house number 514 Chipembere Road, Windsor Park, Ruwa $5 000.
The State alleges Kangai's conduct resulted in financial loss to NetOne and was prejudicial to other landlords whose rentals were not paid. It is further alleged that Kangai approved a loan to Bopela Group (Pvt) Ltd amounting to $80 000 without approval from the board and his actions caused financial prejudice to NetOne amounting to $155 000.
It is further alleged that during the period extending from January 2014 to December 2015, Kangai, as accounting officer, failed to comply with Statutory Instrument 171 of 2002 and handpicked companies to provide services without going to tender. The companies included Espol Advertising, Sectional Poles South Africa, Convergys (Pvt) Ltd, Bopela Group, Gemalto, Afrosoft and Imago Communications valued at $17, 594 million.
It is further alleged on eight different occasions Kangai allegedly abused his authority by giving directives to his subordinates on the acquisition of base stations sites. The procedures require that three survey reports be made before final selection of a suitable site. Kangai allegedly used his authority and handpicked sites belonged to his close associates.
The States alleged that sometime in 2014 Kangai allegedly ordered the installation of a NetOne base station along Lomagundi Road at stand number 103 Goodhope, the property which belonged to Joyce Kangai, who is his aunt, without disclosing to the board of directors his interests and personal relationship to Joyce Kangai.
Linda Gadzikwa appeared for the State.