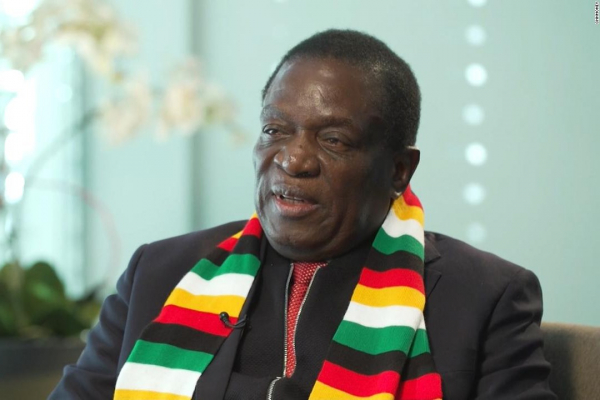 PRESIDENT Emmerson Mnangagwa yesterday said elections would be held earlier than July and he will make a proclamation on when polls will be held at the close of the voter registration exercise mid next month.
By Tatira Zwinoira/Everson Mushava
In an interview at the ongoing World Economic Forum (WEF) summit in Davos, Swtizerland, where he gave guarantees that Zimbabwe was now a safe investment destination following the departure of former President Robert Mugabe, Mnangagwa said the last date of holding elections was in July, something analysts and lawyers have said was not correct.
"In my own view, we want to consolidate and deepen constitutionalism in Zimbabwe and in terms of our current Constitution. Every five years, we are required to submit ourselves to seek a new mandate, so the five-year term ends in July," he said.
"Now, the Constitution allows us to have elections even six months before the last date of July, because of the introduction of the biometric voter registration, the new system of voting, which is ending on February 12.
"After February 12, I will be able to make a proclamation on elections, so I believe elections will be earlier than July."
Legal scholar, Alex Magaisa immediately responded that Mnangagwa's advice on elections was not sound.
"However, President [Mnangagwa] needs a second opinion on the timing of elections," he tweeted.
"The advice he currently has is not sound.
"Elections can only be held within a month before August 22, 2018 unless Parliament dissolves earlier." Last week, former Education minister David Coltart made a similar remark after Mnangagwa said elections would be held within four and five months.
"That would be unconstitutional — has to be between July 22 and August 22 — unless he gets two-thirds of MPs (Members of Parliament) to agree to dissolve Parliament," he posted.
Mnangagwa reiterated that the elections would be open to foreign observers from European countries and would be free, fair and transparent.
"We want to have fair and credible elections, free of violence," he said at his much-awaited debut at the WEF summit.
"If you have that criterion, why would you want to deny international observers from coming into our country?
"So far, the leaders of my party and opposition leaders, we are all agreed that we need a non-violent election," he said.
"But I don't think those that commit violence make an application first that they are going to commit a crime or assault somebody.
". . . but this time, I have gone further and said the EU [European Union], if they want to observe our elections, I will welcome them. Other nations, outside the EU, who want to observe our elections, let them apply."
Asked if Diasporans would be allowed to vote, he said: "Totally, anybody who is above the age of 18 and is a citizen.
"In some instances, other classes may vote depending on how your class residence is classified."
So far, Zimbabweans in the Diaspora are barred from voting, while some activists have approached the Constitutional Court to have people in foreign lands be allowed to vote.
Mnangagwa promised to hand over power if he loses in the next election.
The President was grilled on his role in the Gukurahundi massacres, but he denied personal culpability, although he said his government was working to right past wrongs.
On his predecessor, Mnangagwa denied granting Mugabe and his wife, Grace immunity, but said his administration has ensured that they live in peace.
"No, we have not given anybody any immunity," he said.
"What I have promised to my former President and the founding father of our nation, our icon, is, first, a very lucrative package, which we are giving him," he said.
Mnangagwa denied giving Mugabe a $10 million golden handshake, but confirmed the former strongman was still enjoying his benefits like those given to a sitting Head of State, including trips for medical check-ups to Singapore together with his wife. Grace has been accused of corruption during her husband's reign and some quarters want her prosecuted.
Mugabe has also been linked with the Gukurahundi atrocities in Midlands and Matabeleland in the 1980s.
Mnangagwa said his approach was aimed at stamping out corruption and there would be no sacred cows in the process that has seen several high-profile figures appearing in court.
Meanwhile, Mugabe's nephew Patrick Zhuwao, who had threatened to doorstep Mnangagwa at Davos was nowhere to be seen.
Observers said Davos was a high security zone and chances of Zhuwao, who fled Zimbabwe when the military took over, going to the Swiss city were almost non-existent.