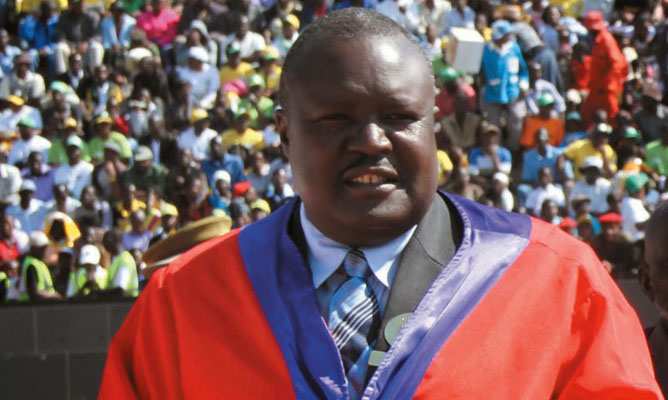 The Election Resource Centre (ERC) has filed an urgent chamber application challenging a statement made by the Zimbabwe Chiefs' Council urging traditional leaders to support Zanu PF and its presidential candidate in this year's general elections. ERC, a think-tank and advocacy organisation, cited Chief Fortune Charumbira as Chiefs' Council president and the Local Government minister July Moyo as the other respondents.
BY DESMOND CHINGARANDE
The urgent High Court chamber application was brought against Charumbira for the remarks he made on October 23 last year at a meeting of Chiefs' Council meeting in Bulawayo.
ERC submitted that Charumbira's remarks, urging traditional leaders to support a political party, violate the spirit and ethos of the Constitution and the obligations imposed on him by the country's supreme law.
"I aver that the first respondent's remarks are unlawful in terms of the Constitution of Zimbabwe, particularly chapter 15 and the Traditional Leaders Act, which provides traditional leaders not to be members of any political party or participate in partisan politics," the submission reads.
According to the summons, Charumbira is alleged to have said: "As chiefs, we agreed during the 2014 congress that Cde (Robert) Mugabe is our candidate for the 2018 elections.
"We are all united and he is still our candidate. We have been supporting him and we can confirm that winning is guaranteed." The elections monitoring body wants the High Court to declare Charumbira's remarks unlawful and to order him to retract the words as they violate the Constitution.
"A well-grounded fear that the general population of Zimbabwe that holds the institution of traditional leadership in high esteem might be misled by remarks and take respondent's word, thereby, putting our democracy and values including good governance in danger," ERC said.
The watchdog also wants Charumbira to retract the remarks and publish the retraction in a national newspaper with a national circulation and all broadcasting stations in the country.
ERC is represented by the Zimbabwe Lawyers for Human Rights members, Mupanga Bhatasara Attorneys.
Charumbira and Moyo are yet to respond opposing the application.