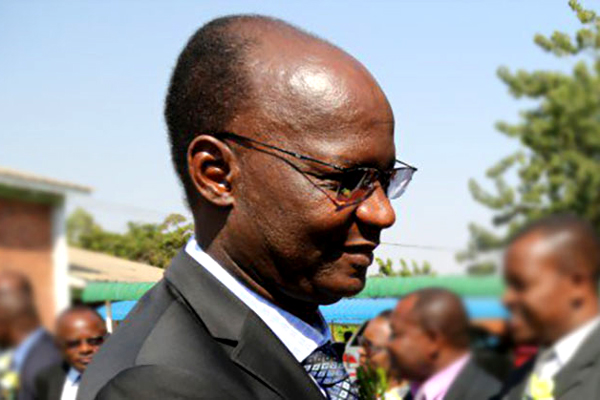 FORMER Cabinet minister and G40 kingpin Jonathan Moyo has described President Emmerson Mnangagwa's administration as an illegal and brutal regime that forced itself on the people, but he immediately drew equal fire from the government, which accused him of "acting like a spurned suitor".
BY OBEY MANAYITI
In an interview from an unknown location with BBC's Zeinab Badawi on the HARDtalk programme yesterday, Moyo claimed Zimbabwe has reduced itself to a "banana republic".
Moyo's interview has ignited the long-standing rivalry with presidential spokesperson George Charamba, who hit back at the former Higher Education minister in equal measure, daring him to return to Zimbabwe if he has no case to answer.
Moyo, who repeatedly described the military intervention as a coup, said he was pinning his hopes on the application of international law, insisting it was unconstitutional for the army to deploy itself.
"The army deployed itself in Zimbabwe yet the Constitution says only the President can deploy it," he said, insisting that even if offered immunity, he would not accept, "as when the devil offers you amnesty, you would be a fool to enter into the Faustian bargain.
"When you have people deploying themselves and taking over all the institutions of the State and government, you don't discuss immunity with them."
Moyo said he was unapologetic for supporting former First Lady Grace Mugabe's rise to the Vice-Presidency, as she held a strong position within Zanu PF.
"First of all, it is not corrupt to support a particular politician to become an office holder whether it's Vice-President or President," he said.
"It can't be a crime in a constitutional democracy.
"It is false to allege that it was an attempt to elevate Dr Grace Mugabe, the former First Lady.
"What is really going on here is that there is a group of people that sees itself as the stockholders of Zimbabwe and this group is led by Emmerson Mnangagwa, but the de facto controller of this group is (Vice-President Retired) General (Constantino) Chiwenga."
Moyo equated former President Robert Mugabe to former Cuban leader Fidel Castro and took exception when he was asked about the ousted leader's legacy of running down the country.
He said the Constitution had been violated and people would not be expected to respect "the most feared gang of people, who perpetrated the worst forms of human rights abuses" in the country such as Gukurahundi and Murambatsvina.
"Every right-thinking Zimbabwean would like to see the restoration of constitutionalism and legitimacy," Moyo said.
"It is not about an individual, but it is about the rule of law.
"The Constitution of the country has been subverted and there has to be a return to constitutionalism and we do not expect the very people who overthrew the Constitution to restore it."
Moyo claimed his hands were clean and he never stole money from the government.
He said the level of allegations that former Cabinet ministers and senior Zanu PF officials hauled before the courts were facing did not warrant the military intervention. But Charamba hit back, saying court proceedings against Moyo would go ahead in his absence and at that point he would realise that the government has a long arm.
He said even without the military intervention, Zanu PF had decided to retire its former leader and then nominated a successor, who was endorsed at the congress.
"So what is their problem? Also we are listening to the verdict of a suspect who is wanted in the courts of law," Charamba said.
"Why doesn't he worry about his status as a suspect? He should come and clear his name is a court of law.
"Legitimacy of the government is not derived from its critics, he is just one rejected voice, and he doesn't command a body of opinion that worries anyone.
"He comes from a very discredited cabal and it would be foolish for us to be expecting him to be full of praises over that action."
However, Moyo described the endorsement of the "military coup" as an "international conspiracy".
Moyo in the interview also alleged that when Mnangagwa and Chiwenga went to MDC-T leader Morgan Tsvangirai's house last week, they pretended they were concerned about his health, yet what they wanted was to negotiate with him to postpone elections for at least three years.
He claimed they are afraid of elections.
Charamba responded that contrary to claims that Mnangagwa asked for the postponement of elections, he invited Tsvangirai to make his submissions on his desired reforms in November and the MDC-T leader was yet to provide his submissions.
"This one is not about yelling from the sidelines, there is need for a proper paper, which is well-substantiated, which will then be forwarded to the relevant arms of government," he claimed.
"That is the kind of submission the President has been waiting for from the opposition and the President intimated to Tsvangirai that the submission hasn't yet come so that he can study it so that they find common ground," he said, adding it was not true that Mnangagwa was seeking to postpone the elections.
However, MDC-T spokesperson Obert Gutu denied Charamba's remarks.
"Charamba is being extremely economical with the truth. The MDC has consistently and persistently advised the electoral and political reforms that we would want to be put in place in time for this year's elections," he said.
Gutu said they had written several times to the Zimbabwe Electoral Commission to have the matter addressed without success.