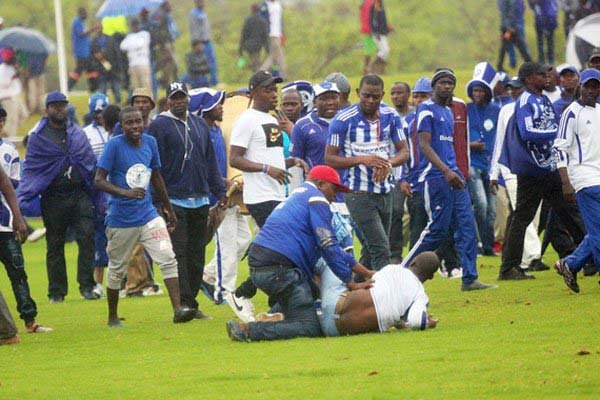 THE Dynamos' supporters leadership are determined to end violence and hooliganism at matches involving their team, and this week met with the club's executive to find ways in which they can nip the scourge.
BY HENRY MHARA
The supporters are concerned with the amount of money that their team continue to pay every season through fines imposed by the Premier Soccer League, money which they reckon could help in the development of the club.
Chairpersons of the supporters from all their chapters around the country converged in Chegutu on Saturday for their strategic planning meeting ahead of the upcoming season, where violence and hooliganism was top of the agenda.
"The meeting were to plan for the season ahead and as supporters they wanted to know how best they can help the club," Dynamos secretary-general Webster Marechera said.
"As the executive, we were invited to give our input on the three main items that were on the agenda. They discussed how best we as a club can curb violence and hooliganism upon realisation that we were losing a lot of money through fines. One of the resolutions to the problem was to get volunteers from within the supporters who would work as stewards to man the other supporters on our matchdays."
Dynamos supporters ran amok at Baobab Stadium last season and clashed with the Ngezi Platinum Stars supporters during the two teams' ill-tempered top-of-the-table clash, which the Harare giants lost 2-0.
For their supporters' troubles, the two teams were each fined $2 500 plus the costs of the disciplinary hearing.
"Other issues that were discussed were about marketing the brand of the club as well as updating our supporters on the player transfers. We advised them about our official website where they can get all the team news and information about the club," Marechera said.
"On transfers, we told them not to panic because everything was under control. We assured them that we are working around the clock to get the best players to take the club forward."
Dynamos finished second last season, two points behinds champions FC Platinum and have responded by going into the market to get the players they can improve the squad for better results.
While Marechera refused to give an update on their transfer activities, it is understood that they have already signed Raphael Manuvire, Jimmy Tigere and Blessing Moyo.
They are also closing in on the signature of Willian Manondo on a one-year loan deal from Harare City and negotiations are reportedly at an advanced stage to sign Kuda Kumwala, who was also with City.
They are also chasing after goalkeeper Wellington Muuya and Takudzwa Ndoro, the twin brother of Warriors striker Tendai Ndoro.