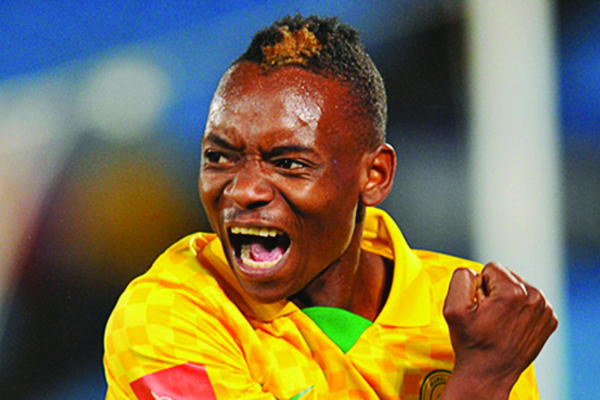 Pretoria — The two superb goals Khama Billiat scored at the weekend surely further endeared the footballer to his worshippers at Mamelodi Sundowns, and his admirers elsewhere.
Sowetan
But they also added to the circus that has surrounded him since he refused to sign a new deal with the club.
Many thought Billiat would not again don the Sundowns yellow jersey when, days before he surprisingly made an emphatic return to the starting XI against Platinum Stars, club president Patrice Motsepe hinted that the player's exit was imminent.
But the Zimbabwean was there to fire in two brilliant free kicks in Sundowns' 3-0 victory over Platinum Stars, triggering wild celebrations in the Brazilians' ranks but, similarly, leaving them pondering if they have seen the last of him.
It's an unenviable position to be in — having a key player in the team who has one foot at the door.
Despite all the uncertainty around him, Billiat has not had a bad time on the park for Sundowns.
He has played 10 games (eight league, two cup) and scored five goals. He has provided four assists as well.
Had he not been blighted by "injuries", indications are he could well have contributed more towards Sundowns' bid to reclaim the Premiership title.
The issue at hand now is not about his talent. It's his commitment to the cause. How long can Pitso Mosimane persist with him in the team, knowing his mind is not entirely there?
Mosimane maintains the matter is out of his hands, as Billiat's agent and the club's management attempt to find common ground. But the clock is ticking.
This is the final week of this transfer window and, in a matter of five months, Billiat can walk out of Chloorkop — for free. At 27, this would be a massive loss to Sundowns, who transformed Billiat into a superstar after recruiting him from Ajax Cape Town in 2013. He has won six trophies in the past five years.
The question that the Sundowns management should ask themselves is how come they allowed the situation to reach this stage, where such a valuable player can leave for free, in his prime?
Sundowns could well have cashed in on him while they could — when two years ago he won everything on offer, including big PSL awards.
If he resisted signing a new contract then, he probably won't budge now.
Mosimane might argue that the player always delivers when he's fit.
But one bad performance might turn all that around, questioning his commitment.
The big lesson for local teams is to never allow a situation to get this far, especially if it involves a star player.
We saw this week Manchester City offering a highly improved contract extension to Kevin de Bruyne — their biggest star — to show how they value him.
Billiat's issues should have been sorted out on time, not until when he has only five months to go on his contract.