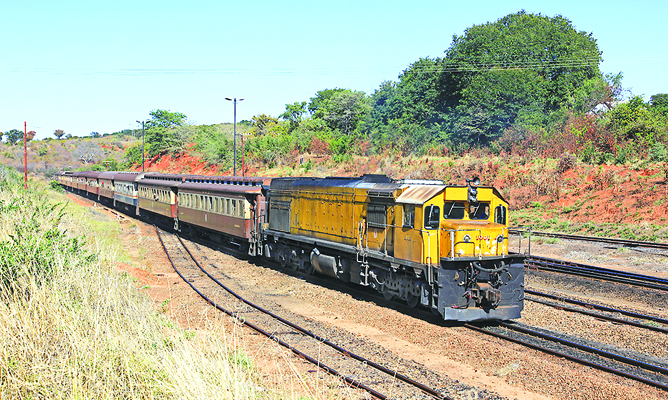 A CONSORTIUM led by the Diaspora Infrastructure Development Group (DIDG) and South Africa's Transnet is mobilising $1,7 billion for the recapitalisation of the ailing National Railways of Zimbabwe (NRZ), a Cabinet minister has revealed. BY MTHANDAZO NYONI
Briefing journalists in Bulawayo yesterday after touring NRZ premises, Transport minister Joram Gumbo said DIDG had already mobilised $400 million for the first phase of NRZ's recapitalisation.
"The motive behind the tour is for me to appreciate why there is need to recapitalise NRZ. To see also what is there at NRZ which we need to recapitalise and what that recapitalisation will mean for us as a country," he said.
Gumbo described NRZ as a key driver to the economic development of Zimbabwe and he was "really keen to push government to finalise this deal with the DIDG/Transnet programme to make sure that NRZ operates the way it must as a key economic driver in our nation".
"From here, I'm going to the third and final leg of my tour and that actually gives me the impression as to how much that $400 million for the first phase is going to assist the recapitalisation of NRZ. This is only the first leg of the recapitalisation. We are actually looking at $1,7 billion for the full recapitalisation of NRZ," he said. "They have already mobilised $400 million which is now coming as phase one, but we want them to go as far as $1,7 billion and they are already bringing in some wagons," he said.
Gumbo said the money would not only be used for the recovery of trains and retooling.
"It must also go beyond that. We must now get out of the shops and start looking at the rail itself. We need to introduce fast trains, we need to bring back the signals to avoid accidents," he said.
"We also need to bring in more than the initial 400 wagons we are talking about because initially, we are going to have about 200 wagons, 20 passenger coaches and about 13 locomotives to give us the initial push of resuscitating NRZ.
"But we are looking beyond that because as I listened to the managers, they will only load about 200 wagons a day of coal from Hwange."
He said NRZ wants to offer its service to Zimasco, ZimAlloys, Pretoria Portland Cement, Grain Marketing Board, Sable Chemicals and other individuals, who would want to make use of the trains.
"So it's a mammoth task and we have to begin from somewhere. We look forward to a quick recovery of NRZ," he said.
Gumbo said there was need to hire more workers as the company was understaffed.
The parastatal owes its employees millions in salaries.