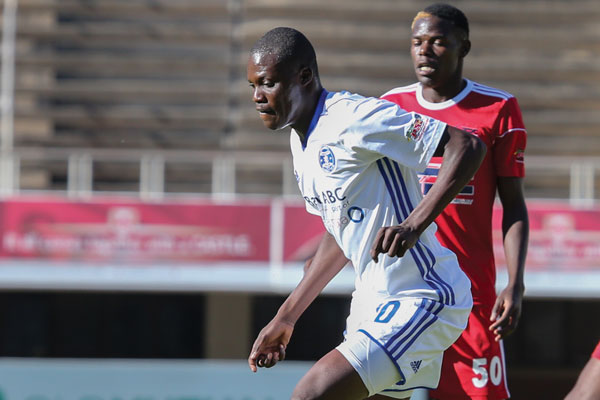 THE Dynamos leadership are in a fix on what to do with bad-boy Denver Mukamba after club coach Lloyd Mutasa publicly stated that he no longer requires the services of the midfielder.
BY HENRY MHARA
The talented but ill-disciplined player was top of the long list of players that Mutasa said were not in his plans for the new season.
Other names on the list, which was submitted to the executive a fortnight ago, are goalkeeper Ashley Reyners, Simbarashe Gorogodyo, Carlos Rusere, Thembinkosi Simango, Musa Madhiri, King Nasama, Takunda Sadiki and Jimmy Konono.
While the club's leadership had agreed to get rid of some of the players affected, most of whom have only one year left on their contracts, they had decided to give Mukamba another lifeline, possibly to avoid the costs of terminating his contract, which still has two years remaining.
So determined was the leadership to keep Mukamba that they reportedly sent a delegation to engage and persuade him to change his ways.
The former Kiglon star had reportedly promised to reform, but it appears Mutasa, who had previously stood by Mukamba, is fed up. In his latest indication that he no longer wants the player, he banished the midfielder from joining the rest of the squad for a training session on Wednesday.
"What I know is that we drew up our list of the players we want (for next season), and Denver Mukamba is not on that list," Mutasa told NewsDaySport after the training session.
Sources in the technical team said the coach had initially wanted to accept Mukamba back into the fold, but decided to harden his stance after the player failed to report for duty when the team begin pre-season training on Monday last week, only to pitch up eight days later.
Mutasa's actions have left the club's executive in a dilemma, as they had hoped that the two would somehow find each other.
Dynamos secretary-general Webster Marechera yesterday said: "If that is what they coach wants, then we will have to follow what he wants. We will try to talk to the coach and from there we will decide on the next step."
Marechera previously admitted that they had decided to give Mukamba another chance after considering the legal repercussions that may arise from terminating the contract.
This week's developments have left Marechera and company in a tight corner, with very limited options.
The easier way out for DeMbare would be to loan Mukamba out to another team who will prepared to pay his salary.
The other choice would be to pay off the two-year contract and release the player, but considering the financial standing of the team, this would be the last route they could consider.
Mukamba has seen his career deteriorate since returning to DeMbare from an unsuccessful stint with Bidvest Wits two years ago.
Reports suggest he was part of a group of players who were taking cough mixtures for intoxication and while a number of squad members including Roderick Mutuma were axed as a consequence, Mukamba was forgiven several times.
But he refused to shed off the bad boy tag, with more reports of gross indiscipline and bad behaviour emerging last season which saw his form on the field taking a dip.
Together with Lincoln Zvasiya, they went AWOL in the final weeks of the campaign as Dynamos chased the league title, which they eventually lost to FC Platinum by two points. And again, he got away with a warning while Zvasiya was booted out.
But he still decided not to report for training for the remaining matches, a decision which appeared to have stretched Mutasa's patience to the limit.
The Dynamos coach is currently in the process of building a team which he thinks can win the premier league next season.
He has already made four significant additions to the squad after snapping the signatures of Raphael Manuvire, Blessing Moyo, Jimmy Tigere and James Marufu.
They are currently in search of a striker to replace Christian Ntouba, who is currently in South Africa where is negotiating a move to SuperSport United.