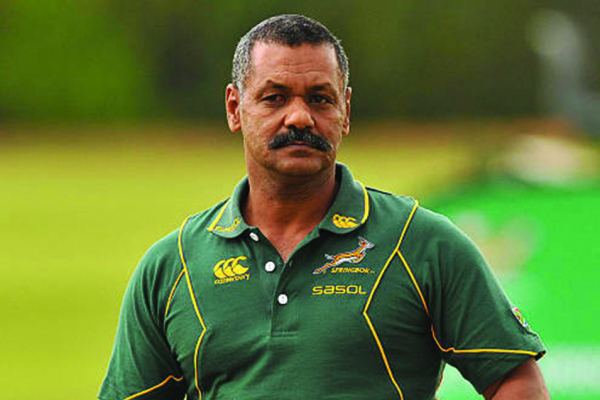 FORMER South Africa national rugby team coach Peter de Villiers has declared his interest in taking over the vacant Sables coaching job, saying it would be an honour to lead the flagship national rugby side ahead of the 2019 Rugby World Cup qualifiers later this year.
BY DANIEL NHAKANISO
The 60-year-old, who arrived in the country on Monday, was interviewed for the Zimbabwe job yesterday as he looks to make a comeback to international rugby since he left the Springboks job in 2011.
"It would be a great honour for me (to become Zimbabwe coach), but I'm not expecting to get the job because I know there are a lot of great candidates who also came for the job and I know they are capable of getting the team to the next level," de Villiers told reporters in the capital yesterday.
The Paarl-born rugby tactician, who led South Africa to 2009 Tri Nations success during his three-year tenure with the Springboks, said he would remain available to assist whoever is appointed.
"If I don't get it (the job) I'm still available to help them and share my knowledge with the players so that we can assist the country which is headed in a new direction with (the coming in of) a new president. But as I have said, it would be an honour to coach Zimbabwe, but I'm waiting anxiously on decisions to be made by the board and I believe they will make the right decision.
I'm still a servant of the game and would want to serve whenever and whatever I can," he said.
De Villiers left the country yesterday after being interviewed for the vacant post by the Zimbabwe Rugby Union technical committee headed by former director of rugby, Brighton Chivandire.
Other members of the high-powered committee include former Sables coaches Bill Cornish and Godwin Murambiwa as well as Zimbabwe Referees' Society boss Gerald Chipumha and human resources expert Elijah Nyakurerwa.
The outspoken coach, who is currently the director of rugby at the University of Western Cape, where he has coached Zimbabwe international Njabulo Ndlovu, also took some time to help the national Under-20 team, who are preparing for next month's World Rugby Under-20 Trophy qualifiers in Nambia.
De Villiers, who became the first non-white coach to take charge of South Africa, is one of the game's most colourful figures. The South African coach is part of a strong four-man shortlist which also includes British coach Collin Osborne, who is the current skills coach at English Premiership side Harlequins.
The other contenders include former Sables coach Brendan Dawson and Peter Engledow, who is currently in charge of Currie Cup side Griquas.
ZRU vice-president Losson Mtongwiza said they were delighted by the high calibre of coaches who have registered their interest in the job and a final decision would be announced at the end of the month.