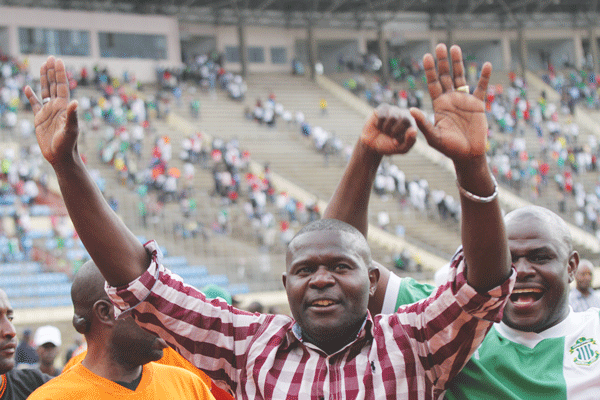 CAPS United are set for yet another major coup in the transfer market in their bid to assemble a formidable squad capable of reclaiming the league title, with Praise Tonha, one of the best full-backs in the country, likely to join the team.
BY HENRY MHARA
The highly-rated former Triangle and How Mine right-back was one of the numerous new faces trying to impress coach Lloyd Chitembwe (pictured) at the Green Machine's training session at the National Sports Stadium yesterday.
Other high-profile names at the training session included Wisdom Mutasa and Blessing Chimwamuchere.
Chitembwe, whose squad looks fearsome after adding a number of established players during the transfer window, said he was still assessing a number of players with a view to signing them.
At least 12 players were having trials with the club, but it is Tonha and Mutasa, the son of Dynamos gaffer, Lloyd, who appear to charmed Chitembwe.
"One can never be satisfied with the squad and I'm no exception, but I'm happy with the fact that the players that we wanted are here so we are OK," Chitembwe said. "As far as Praise and Wisdom are concerned, they asked to train with us and I did give them an opportunity. There is a chance (of signing them) because in football you can never say never. What is important is to give these guys an opportunity to work with us. I believe any player has to earn the right to be here and if they continue to work as hard as they showed me today, they stand a very good chance just like any other players."
Caps United, who won the league title two seasons ago and went on to impress in the Caf Champions League, have since strengthened the squad with returnees Ronald Chitiyo, Method Mwanjali, Oscar Machapa and Dominic Mukandi, while Brian Muzondiwa, Ishmael Wadi and goalkeepers Chris Mverechena and Munyaradzi Diya have also joined the Green Machine.
They are also being linked with Simba Nhivi and Yadah Stars' Leeroy Mavunga and Dennis Dauda, while Devon Chafa, whose contract with the club expired at the end of the year, is set to renew the deal.
"I think it's malicious if people are to talk of Devon not as a Caps United player. As far as I'm concerned, he is a Caps United player."
Chitembwe declined to discuss the possibility of signing Dauda and Mavunga.
The arrival of the big names has excited the club's supporters, who now believe the glory days could return.
"I can't stop the supporters from getting excited, but what brings that excitement to fruition is hard work and one thing I can assure them is that we will try and work hard to make them happy."
Chitembwe said while winning the league title and participating in the Caf Champions League would be the team's priority, he would be even happier if the club manages to export more players abroad.
After their good run in the Caf Champions League, Caps United managed to export some of their stars including Abbasi Amidu, Ronald Pfumbidzai, Edmore Sibanda, Tafadzwa Rusike and Dominic Chungwa. Moses Muchenje is currently in Egypt for trials.
"For me, that has always been the priority. I always want to develop players for them to go outside the borders. I'm very happy that we did achieve that last year. We had set the target (of exporting players) at five, but we went on to do more than that.
This season we will also try and come up with a target. I'm looking at nothing less than five. If we can achieve that, I will be very happy."
The Harare giants entered the sixth day of their pre-season yesterday, and the gaffer was impressed with the progress. "The players are at a level where we expect them to be. They are not fit and that is the reason why the pre-season is very important. They have to go through these programmes until they get to the level where we want them to be at the end. By the time we start the season they would be in a good shape."