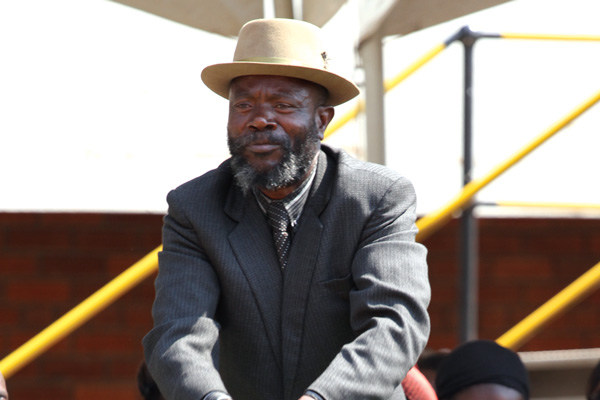 COMICal Buhera South legislator Joseph Chinotimba (Zanu PF) on Tuesday said his mission is to make the nation happy through his rib-cracking jokes and that was why he titled his forthcoming book, Chinotimba Jokes/Masasi aChinoz Volume One.
BY KENNEDY NYAVAYA
Speaking at a pre-launch Press briefing ahead of the book's official launch at the Harare City Library tonight, Chinotimba said when the author — Chenjerai Mhondera— pitched the idea to him, he quickly grabbed it.
"I agreed to have it written because it makes me happy to be the talk of the town, so when Mhondera pitched the idea to me I got excited because I am also a happy person generally," he said.
Chinotimba also hinted that he has set his eyes on acting and that could be his next project.
"It will not end here and we are going to act what is in the book and publish it in different ways, so we are searching for talented people who can do what I cannot, like putting it online to make sure that we make Zimbabwe happy," he said.
Chinotimba, also known as Comrade Chinoz, has often been touted as illiterate owing to his little command of English, out of which people had crafted many jokes.
Mhondera described the booklet, which also captures Chinotimba's journey in politics, the liberation struggle and current life, as "a token of appreciation" in honour of the politician's comic relief in the usually stern socio-political issues.
"This book is about paying tribute to the honourable and thanking him for being a public figure who works well with others from the political side," Mhondera said.
Last October, government through the Public Service, Labour and Social Welfare ministry appointed Chinotimba as the National Happiness ambassador.
"As an ambassador of happiness I want everyone to be happy when they see me they should be happy because I am not just an ordinary MP I am someone who loves people," an elated Chinotimba said.
He also said that the money gained from the sale of the book will go towards funding education for underprivileged children.
"I pay for schools fees for more than 100 children, so the money I will get here is not for me. I saw that the jokes come from people so when the money comes it has to go to the people so they can be educated," he said.
Vice-President Constantino Chiwenga is expected to be the guest of honour at the event.