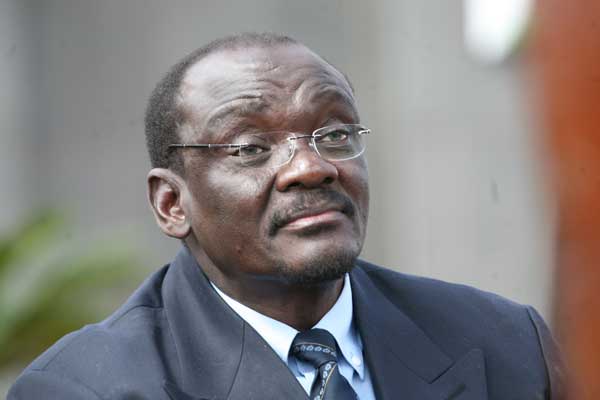 VICE-PRESIDENT Kembo Mohadi has insinuated that the government will approach traditional leaders to help deal with the Gukurahundi issue, which continues to haunt the country, although he conceded that it was not an easy issue.
Speaking at the burial of liberation war hero Phillip Chinoni in Beitbridge at the weekend, Mohadi said the Gukurahundi issue had to be tackled sooner rather than later.
"It has to involve us forgiving each other considering some people were gravely hurt," he said.
Avoiding mentioning Gukurahundi directly, Mohadi, who administers the National Peace and Reconciliation portfolio, said government would, through traditional leaders, address the thorny issue to unite Zimbabweans.
"In our culture, we have leaders that are not elected like us and these are our traditional leaders, whom we expect to spearhead in this healing.
"It is in our interest to forgive each other and move forward although some will not find it easy," he said, apologising to the mourners that perhaps the funeral was not the best platform to discuss the topic.
This was his first address to his former constituents since being appointed Vice-President.
"I would not have got this (VP post) had it not been you, who retained faith in me for many years.
"I have never lost an election here since 1980 and I owe this (VP post) to you, it's ours together," Mohadi said to applause. Gukurahundi, which casts the darkest shadow on Zimbabwe's 37-year history, was a series of massacres of over 20 000 civilians by the Fifth Brigade between 1983 and 1987.
To date, some people are undocumented and do not know what happened to their parents.
In a recent visit to Bulawayo, President Emmerson Mnangagwa, seen by many as the face of the massacres, was met with demonstrations from activists, who want the Gukurahundi issue addressed.
Turning to Chinoni, Mohadi spoke fondly about his contribution to the liberation struggle.
"We walked a long journey together and I learnt a lot from him.
"He was a potent man and had a strong character," he said, thanking the local leadership for proposing his hero status.
Chinoni (80), who died on January 10, was buried with full military honours at his home at Dimolomo Village some 12 kilometres north of the border town.
He is survived by three wives and 17 children.