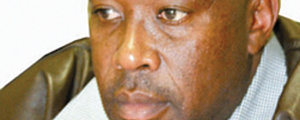 ERNEST "Maphepha" Sibanda will have to wait until this evening to know whether he will be contesting the Highlanders chairman's post after the nomination court that sat yesterday to verify candidates for the upcoming elections said he had a pending matter with the board.
BY FORTUNE MBELE
Secretary of the nomination court Cosmas Sikhosana yesterday said Sibanda, a Highlanders life member, had penned a letter to the board last week seeking complete status to take part in club activities and the highest office at the Bulawayo football giants would deliberate on that correspondence this evening.
Businessman Kenneth Mhlophe was cleared by the nomination court and has been confirmed to contest the chairman's position in the executive elections to be held on February 4.
"For the chairman's position, Kenneth Mhlophe is cleared. The other nominee Ernest Sibanda's candidature is not yet confirmed because he wrote a letter to the board appealing for complete rehabilitation status to participate in all club activities in management and the board is going to respond to this note tomorrow (today) evening when they have their meeting. Until that is done, his candidature cannot be confirmed. But all other issues in his nomination forms are fine. We informed his representative about the situation," Sikhosana said.
Sibanda challenged Peter Dube for the chairman's post in 2015, but the electoral court adjudged that he was blocked from participating following a case to do with financial regularities pertaining to the sale of striker Obadiah Tarumbwa to Belgian side Cercle Brugge in 2008.
At the time Sibanda was found guilty of converting $25 000 of club funds to his own use but in 2015 after being banned for three years, he appealed and it was lifted by the board since he had reimbursed the money.
Dube was voted chairman unchallenged.
About two weeks ago Sibanda stated that he would stand guided by the club on the issue and he wrote a letter to the board last week.
According to the Article 10.7 of club's constitution the nomination court is …"empowered to receive nominations of candidates, to vet them, approve or disqualify any candidates in doing so it shall be guided by the provisions of Article 9."
Article 9.2 of the Highlanders law book reads: "Such prospective candidate for any position in the executive committee must not be an unrehabilitated insolvent and must not have been convicted in the 10 years immediately preceding his nomination of any crime involving dishonesty for which he has been sentenced to a term of imprisonment without the option of a fine or to a fine exceeding $50 000 or to both such fine and such imprisonment."
Seven other candidates sailed through the nomination court with Israel Moyo, Nkululeko Ndlovu and Siphatho Ncube up for the secretary's post, while Peacot Dlomo, Charles Moyo, Silandulo Sibanda and Wisdom Mabhena will battle for the committee member's post.