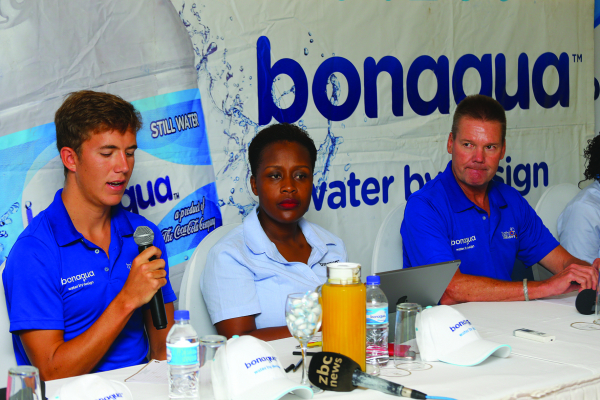 ZIMBABWEAN triathlete, Gideon Benade has high hopes that his participation in the 2018 Bonaqua Troutbeck ATU Sprint Triathlon African Cup at Troutbeck Resort in Nyanga on February 17 will be the first major step towards qualification for the 2024 Rome Olympic Games.
BY DANIEL NHAKANISO
The 19-year-old former Peterhouse School student will make history by becoming the first Zimbabwean to compete in the men's Elite category in the prestigious race since two-time Olympian Chris Felgate six years ago.
Benade, who coincidentally looks up to the retired Felgate as his role model in the sport, revealed that his ultimate goal was to follow in the latter's footsteps and represent Zimbabwe at the 2024 Olympic Games.
"My goal is to qualify for Olympics, not necessarily the next ones (in Japan) because I still need some time to establish myself in the elite category, but definitely the 2024 Olympic Games in Rome," Benade said at a press briefing yesterday.
"My role model is Chris Felgate, who competed in two Olympics in Beijing (2008) and London (2012) and I hope to follow in his footsteps and hopefully do better if possible," he said.
Benade will be hoping for a positive start in his journey towards a professional triathlon career and possibly Olympic qualification at the 2024 Tokyo Olympics by putting on a strong performance in the 2018 Bonaqua Troutbeck ATU Sprint Triathlon African Cup.
The Zimbabwean teenage star will be the county's lone representative in the strong men's elite field, which features 17 triathletes from South Africa, Germany, Australia, Hong Kong and Namibia.
"The reason why I want to do this race is because the first triathlon that I ever did was at Troutbeck and I really enjoyed it so from there on I've been hooked onto the race and they call it the tri-bug and I've had it ever since.
"In preparation for this race, I've been doing a lot of mileage just to make sure when I get to the race, I can get onto the starting line knowing I can give my best. I've also gone to various training camps over the years to train with international athletes so that I know how they train."
Triathlon Zimbabwe president, Rick Fulton paid tribute to the sponsors for their continued support of the Troutbeck ATU Sprint Triathlon African Cup, which he said had turned it into one of the biggest events on the continent.
"This event has had Africa Triathlon Cup status for 11 years now, which is the longest-running triathlon cup on the African continent. There are no other events that have survived as long as this," he said.
"We are very proud to be able to host this event in Zimbabwe now for a number of years and turn it into a flagship event not only for this country…it stands very high on the list of events on the African continent with regard to triathlon.
"We are very grateful to all of our sponsors, who have noticed that this is a lifestyle type of sport and is fun and certainly very family-oriented. The appeal, thankfully, has been noticed and we are very proud to be associated with sponsors in particular for this event being Bonaqua, Bon Marche and DHL," Fulton said.
Last year, German-born triathlete, Jonas Schomburg romped to victory in the Elite men's race, while Japanese Aoi Kuramoto clinched the women's title ahead of South Africa's Cindy Schwulst.