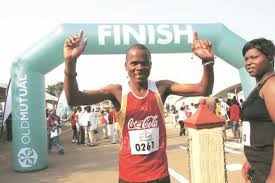 KADOMA-based long distance runner, Jacob Mugomeri won this year's Liquor Hub 10 km Fun Run, clocking 30:36:56 in the scorching morning heat in Bulawayo yesterday.
BY FORTUNE MBELE
However, the Zimpost Athletics Club athlete failed to beat the 2015 first edition record of the race held by Kevin Pangiso of the Zimbabwe Prisons and Correctional Services (ZPCS), who crossed the line in 30:36:40.
Mugomeri, who picked up the $500 first prize-money, yesterday shrugged off a challenge from Blessing Waison of Black Rhinos, who came second in 30:56:96, while Blanket Mine's Christopher Gondwe was third in 31:04:59 in the men's category.
The Zimpost Athletics Club athlete said his aim is to beat Pangiso's record next year.
"The race was okay, but we started late and it was getting too hot and the water points were few at the start but I managed to prevail," Mugomeri said. "I was not here last year, but the terrain is good. Training has been the most important factor that guided me to this victory. My endurance was good; I did not give up even when the going was getting tough. I attribute this to determination and mental strength. I will try harder to make a new record by beating Pangiso's record in the next edition."
In the senior women's section, Patience Garauzive (nee Murowe) of ZPCS beat her last year's record of 36:56:07 to romp home in 35:38:09 this year to walk away $500 richer, but admitted the terrain was tougher than last year.
"The terrain had several steep slopes compared to last year's rather flat one. This one was more challenging. The secret behind my win has been giving myself time to rest because we are at the end of the year. I came first in Vumba and Soweto (South Africa) also because I give myself enough time to rest before a race. My training programme is also contributing after I changed coaches a few years ago," she said.
On second spot was her collegue from ZPCS, Neviah Maganzo, who clocked 39:50:30 with Annei Chirisa of the Zimbabwe Republic Police coming third in 40:29:58.
Sponsor of the race, owner of Pintai Trading (Wholesale Centre Groceries and Liquor Hub), Raj Modi donated $5 000 to Ingutsheni Psychiatric Hospital.