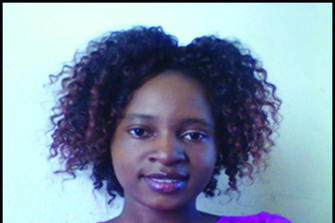 PRIMROSE Katena from Muzarabani is a former Camfed beneficiary, who is now studying in Ghana.
BY FEATURES WRITER
Campaign for Female Education (Camfed) is a UK Aid-supported British charity that has helped to send more than 40 000 girls to school in Zimbabwe since 2012.
During a recent trip back home, Katena shared her story with nearly 1 500 girls in local schools, about how she was able to scale dizzy heights and realise her dreams.
Katena said her dream was birthed during early childhood, when she was still at pre-school and later at primary.
"We sang songs of who we wanted to be when we grew up. In our drama performances, we would use objects that looked similar to the things we would use in the careers we wished to pursue," she recalled.
Katena, said she also remembered standing up and acting out her dreams — and feeling proud when the "big children" clapped in support.
During those years, she was also able to draw inspiration from her siblings, particularly her sister's dream of becoming an accountant. Katena said that also fuelled her passion and "made me picture the person I wanted to become in the future".
The stories, parents and guardians tell girls can have a powerful effect, according to Katena. She said guardians could also share stories of other successful women, as a way of sparking one's desire to dream big and chase after their dreams.
She said many young girls — daughters and their friends, nieces and neighbours and other children — needed women they could look up to as role models, so they could realise that they were capable of achieving their dreams.
"We want them to believe they are capable of doing great things," Katena said.
She said it was important for parents to praise their daughters when praise was due, as that also helped encourage the young girls to dream big and take steps towards the realisation of those dreams.
"My mother encouraged me. Every time I performed well in school, my mother would reward me with a small gift. [That] encouraged me to perform better in my next academic term," Katena said.
Camfed executive director for Africa, Angeline Murimirwa, said mentors are essential because they play a critical role in an individual's life.
"They push us beyond our comfort zones and still provide a safe and secure place for us to break out," Murimirwa, who is leading education programmes across 5 488 schools in Ghana, Malawi, Tanzania, Zambia and Zimbabwe, said.
She said it was important that girls had "real" mentors, whose life experiences can be used by young girls to learn important life lessons.
"That means that they too have lived through or at least have knowledge of the challenges a girl in Zimbabwe might face," Murimirwa said.
"I have found out that the more real and relatable mentors are, the more helpful they are."
She said the mentorship role could be done by a parent or anyone who was capable and qualified to do so.
Murimirwa shared fond memories of her pre-school teacher, a Matendere, who was influential in shaping her expectations in education.
"She was my first introduction to teachers and she shaped what I expected from education," she said.
"I have always expected classroom settings to be fun, interactive, have lots of storytelling and music and something for me to go back home and show off with," Murimirwa recalled the moment when she was selected to be a recipient of Camfed support.
The opportunity was like a gateway that enabled her to have access different schooling.
"It gave me permission to dream bigger and better. I started believing more in the power of possibilities," she said.
"It meant that I could dream outside of my economic class, my village and my sex."
Katena said it was helpful for parents and guardians to stretch girls' dreams by ways that included being proud of who they are themselves — just as they're proud of their children.
She said parents should "try to help their children get exposed to more and better than the norm… My dad always saw me better than I did myself and he said it."
Murimirwa said part of the mentorship role included one's struggles because it was crucial not just to share the stories of success because girls needed to know that they would encounter obstacles and failures.
A major lesson from such stories, she said, was that obstacles and slip ups did not entail the end of one's dreams.
"This inspires children to get up and keep going when they have fallen down," she said.