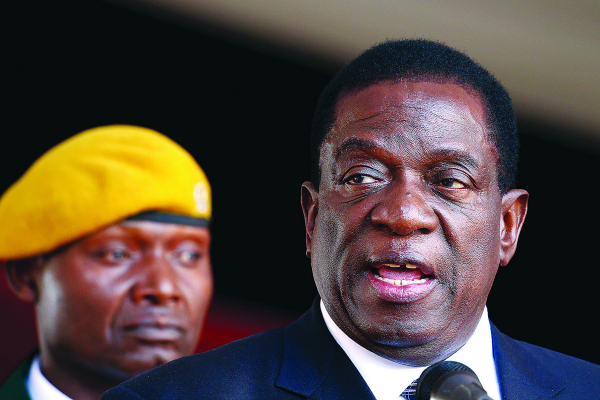 FRESH cracks have emerged in Zanu PF over the selection of delegates to attend Friday's extraordinary congress amid claims that bona fide officials were being dropped by new provincial leaders, who are now cherry-picking their allies, NewsDay has heard.
BY OBEY MANAYITI/JAIROS SAUNYAMA
Most provinces changed their G40 aligned leadership recently when former party leader and ex-President Robert Mugabe was forced out of power and they were replaced by perceived allies of President Emmerson Mnangagwa.
Several Zanu PF officials from various provinces, who spoke to NewsDay yesterday, expressed disgruntlement over their alleged sidelining, saying even though the party was preaching inclusivity by day, retribution was the order of business by night.
In Manicaland, some members claimed they were overlooked despite not having been members of G40.
"The problem is that the general leadership in districts is being overlooked and things are not being done procedurally according to the [party] constitution," an official said.
"The new leadership has captured party structures and is simply axing sitting elected comrades and relegating many so as to replace them with their friends and associates.
"It's now a matter of rewarding friends as opposed to rewarding genuine party members."
But Manicaland provincial chairman Mike Madiro laughed off the allegations, saying those that were attending the congress deserved to be there, adding the claims of cherry-picking were part of an agenda to "destabilise a peaceful Manicaland province".
"I am not aware of that and I didn't jump anyone," he said.
"Any person who feels aggrieved will come to the chairman or provincial commissar and not the newspapers.
"I am surprised by those allegations."
In Masvingo, provincial chairman Ezra Chadzamira denied accusations of discrimination, saying he could not comment on people who were speaking anonymously.
"If you give me their names, I will give you the reasons [they are not attending]," he said.
"We don't discriminate.
"We have more than 600 delegates and those who qualify will go and those that don't qualify will not be going."
In Mashonaland West, members said those largely affected were provincial executive members and a few district executive members, who were accused of supporting G40 or those previously co-opted into the party structures.
"The unfair part of it is that people are just overlooking anyone," an official said.
"It is chaotic because someone can just come and accuse you of anything so that you are overlooked. Previous grudges are coming in and there is nowhere to report. We will be in the terraces and see what happens next."
Mashonaland Central, where Zanu PF's former national commissar Saviour Kasukuwere comes from, also had a number of people who complained of being discriminated.
In Mashonaland East, there was fracas at the Zanu PF provincial party headquarters in Marondera on Monday over the accreditation of members to attend the congress.
When NewsDay arrived at the venue, the scuffles had died down, but sources said some members could not stomach being left out of the travelling party.
"There were scuffles as some people thought they were being sidelined and being elbowed out of attending the congress in Harare," a party official, who spoke on condition of anonymity, said. "But that is not the truth.
"It was just a misunderstanding between people from various districts.
"The matter was resolved amicably and credit should be given to the leadership who handled it well."
Provincial chairperson Joel Biggie Matiza confirmed the hiccup, saying the issue had since been resolved.
"There was miscommunication from the districts and that there were some papers with lists that were missing," he explained.
"The issue was resolved and those who had issues were addressed. It went well and we are ready for the congress."
Zanu PF national political commissar Victor Matemadanda urged disgruntled members to approach the nearest party offices for redress.
"I don't know of any such thing and even the President said there must be no retribution," he said.
"The party spokesperson [Simon Khaya Moyo] said the same and those that claim they are being left out must approach the nearest party office.
"If they are members of Zanu PF, they know the right channels to use.
"We cannot rule out that some things might be happening in provinces, but that can only be addressed if they come forth so that we address the matter.
"I advise that person or people to go to Zanu PF offices because we don't have to be retributive save for the members who were suspended or fired by the central committee recently."