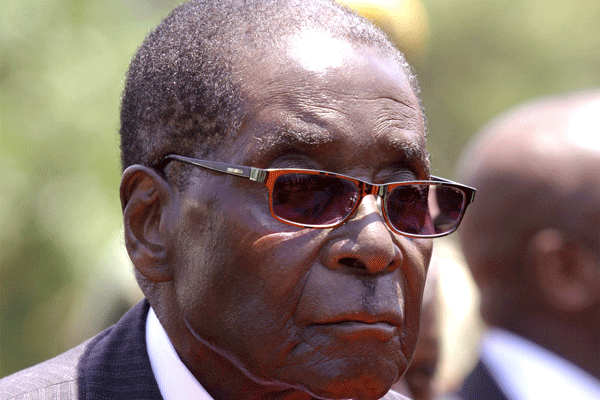 WAR veterans have reiterated their call for citizens to stop President Robert Mugabe's bid to establish a family dynasty in Zimbabwe.
BY RICHARD CHIDZA
In a statement that outlines what the Zimbabwe National Liberation War Veterans Association (ZNLWVA) said were guidelines to stem the tide of pre and post-election violence in the country ahead of general elections next year, secretary for education, Wilbert Sadomba said reports of harassment of citizens in the voter registration exercise were "cowardly acts" against the people.
"Voters are encouraged to express their anger against violent political candidates in the polling booth by voting against them. A party or political leader who encourages or condones violence exhibits signs of dictatorship, tyranny and dynastic tendencies undermining values of the liberation struggle enshrined in our constitution. The nation should organise itself to stop this at whatever it costs," said Sadomba.
While in public Mugabe has rejected suggestions he wants to hand over power to his wife, Grace, reports indicate otherwise. Mugabe has already agreed to convert this year's Zanu PF annual conference into an elective extra-ordinary congress, with indications that he wants to re-introduce a constitutional provision requiring that one of his deputies be a woman.
War veterans over the years have been used by Mugabe as political storm-troopers and merchants of electoral violence, but are now singing a different tune following their fall-out with the Zanu PF leader.
"Failure to respect uphold this value of liberation is tantamount to denigrating the ethos upon which this very nation is founded. Their sacrifices cannot be in vain and therefore we strongly denounce the perpetrators and especially their organizers," the statement said.
Sadomba said political leaders have moral authority to stop pre and post-election violence but seemed to be the brains behind the scourge.
"We note with deep concern and sadness the silence of political party leaders who have a national duty to restrain their supporters from electoral violence and intimidation. In fact these leaders directly influence or plan the political violence for selfish ends," said the war veterans' leader.
With the country's traditional leaders having already declared that they would be supporting Mugabe in next year's elections, Sadomba called for concerted efforts to stem the tide of violence.
"Liberation war veterans, religious leaders, community leaders, traditional leaders and all responsible citizens, ex-Zimbabwe National Army and ex-police officers, ex-Rhodesian security forces and the White community should denounce these cowardly acts of aggression by overzealous and misguided youths of political parties and factions against innocent and peace-loving electorate exercising their hard won democratic right," he said.
Sadomba called on especially rural communities to form groups in collaboration with war veterans to fight violence by confronting perpetrators "if they feel safe to do so" but report such people to police while standing their ground "within their areas of influence".