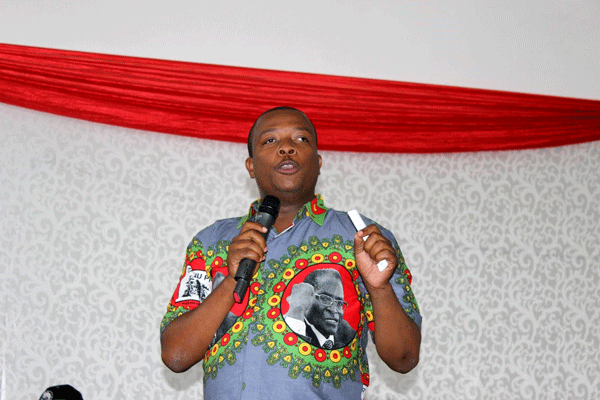 UNDER-FIRE Zanu PF Manicaland provincial youth leader Mubuso Chinguno has spilled the beans and implicated the ruling party's national youth leader Kudzanai Chipanga as a beneficiary of the alleged looted $400 000, NewsDay heard yesterday.
BY STAFF REPORTER
Chinguno also claimed that several top officials in President Robert Mugabe's party, some in the main wing, also benefited from the fund set up to service residential stands for youths in Chipinge district.
The money had allegedly been mobilised by party youths to service their government-issued residential stands in Chipinge through a private company, Causepun Investments (Pvt) Limited, whose directors include youth leaders' wives and close relatives.
He said he was singled out and suspended on Monday for the alleged fraud after he terminated "excessive" allowances paid to the company's directors.
"Realising that the allowances were straining the project, I unilaterally terminated the allowances and that is when the fallout began. Our fallout was also a result of Cde Mubuso refusing to release money which was being ask for (sic) by Cde Kudzi Chipanga through his confidant Acting Chief Victor Saunyama. This was a big fall out," Chinguno claimed in a letter dated October 27 and addressed to women's league national administration secretary Letina Undenge and copied to several Zanu PF officials.
He added that he crossed swords with Chipanga after turning down a national executive member Betty Waini's demand for money to buy her a car for campaign purposes.
The latest exposé appears to confirm allegations that the fund could be just one of Zanu PF government's several slash funds created to oil the ruling party's underhand deals and looting spree.
Yesterday, Chipanga asked NewsDay for questions to be emailed to him, but had not responded at the time of going to print last night.
Chinguno also claimed that he was a victim of Zanu PF factional fights.
"We have been working together with Cde Chipanga quite well and we even used to fight and defend our President RG Mugabe and Dr Amai Grace Mugabe, until Honourable Kudzi Chipanga received a luxurious Discovery vehicle from a business tycoon Mr Kudakwashe Tagwirei (Sakunda chief executive officer) for him to engage all national and provincial youth executives to support 'Team Lacoste' against the President RG Mugabe and Dr Amai Grace Mugabe," Chinguno claimed.
"For example, Cde Nobert Ndaarombe wrote a report to Cde Chipanga complaining about misconduct by the youth league members. Youth league members had chased away senior government officials and Zanu PF members, accusing them of bringing 'Gushungo Dairy ice-creams' laced with poison. For your information, Cde Chipanga decided to ignore the matter and no action was taken."
Chinguno added: "Cde Kudzi Chipanga, on his return from the Russia trip, he was not happy with how Cde Mubuso Chinguno pushed for Manicaland PCC [provincial co-ordinating committee] to adopt that we should do a 'special congress' that one of the Vice-Presidents should be a woman. This also resulted in an article in Daily News, where I publicly declared that we are supporting Dr Amai Mugabe to be Vice-President when we go to the special congress. This also resulted in our fallout with Cde Kudzi Chipanga. I expressed my displeasure on VP Mnangagwa's poisoning saga, that he was pointing fingers at the First Family, Cde Chipanga reprimanded me for that, he actually threatened to have me expelled from the party."
The suspended provincial youth leader further claimed: "More importantly, an unsanctioned meeting was held at Senator [Monica] Mutsvangwa's house by Lacoste leaders. I duly advised Cde Letina Undenge and political commissar (Saviour Kasukuwere) of that meeting in Mutare. That meeting resolved to push for Cde Oppah Muchinguri to be VP at the coming special congress and for that to happen, it was resolved that I should be expelled from the party to enable Manicaland youth league to support the nomination." Chinguno said the recent demonstration held against him was part of a plot to silence him and have him expelled from Zanu PF.
He said most payments made from the company coffers were authorised by Chipanga.
"In preparation for the Manicaland Presidential youth interface rally, $3 000 was paid to Petrotrade Rusape for the transportation of Makoni district youths only. This was done as per directive from national secretary for youth affairs Honourable Kudzai Chipanga," Chinguno wrote.
He added that Chipanga allegedly later directed Saunyama to pay another $7 950 to the National Railways of Zimbabwe to "ferry delegates from Makoni district".
On May 8 this year, Chipanga allegedly requested and received $8 000 to secure diesel for his Makoni West constituency road rehabilitation programmes.
Mubuso and Saunyama also benefited 800 litres of fuel each under the deal.
Chinguno also claimed that Chipanga gave orders for several party officials, some from the main wing, to be "financially assisted" with money drawn from the company coffers.
"They want to replace me with either a Lacoste or their right hand man so that they can push a Lacoste agenda easily," Chinguno wrote to Undenge.
One of the beneficiaries was provincial commissar (main wing), Simon Mapamba, who allegedly received $600 as help to clear his personal vehicle at Beitbridge Border Post.
He also disclosed that the company's directors were either provincial leaders' wives or close relatives.
One of the directors described as the principal officer in the company documents, Ennydon Mwale, is Saunyama's wife and the company was also registered under her address.
Others were Agnes Rwizi, Chinguno's brother's wife, Fortune Kirichi, who is the wife of the deputy provincial chair Harrison Tuso, Rinashe Chinamasa's mother Priscilla Hlongwane. Chinamasa is the provincial secretary for commissariat.
According to bank accounts gleaned by NewsDay, at its highest, the company had $58 855 in its bank account that was systematically drained by the Zanu PF leaders.
Saunyama and his wife reportedly took almost $5 500 from the company, while Mubuso was in the same range.
Tuso, through his wife got around $4 000, Chinamasa, through his close relative pocketed, $3 520 and Waini got $1 000.
Although Mwale admitted she was married to Saunyama, she refused to answer questions relating to the directorship of the company. However, Tuso confirmed having his wife as one of the directors.
"Yes, my wife is there. In fact, Mubuso added our wives after we asked how we were going to benefit as well from the company. Initially, there was Mwale and another before Mubuso tried to cover up his dealings by adding our wives to the company. There is no factional politics here," he said.
Mubuso yesterday confirmed to NewsDay having seconded his brother's wife to the company like some of the leaders, although he denied swindling the company of $400 000.
"Firstly, it is mischievous and malicious that I took $400 000 from the company. These allegations are just meant to soil my image as a leader and I feel people must know the truth. We had this company run by our wives and the signatory to the company is Saunyama's wife. At its best, the account had only $58 855 and I don't know where they are getting the $400 000 they are talking about," Mubuso claimed.
"I am being accused of embezzling non-existent money and I don't know why they are failing to investigate Saunyama's wife and the real directors. They are the ones who must be answerable. They must stop throwing dust into people's eyes yet evidence is there on who benefited what from the company."
Other senior youth officials from Manicaland got varying amounts from the company, which now was left with a balance of just above $13 000.