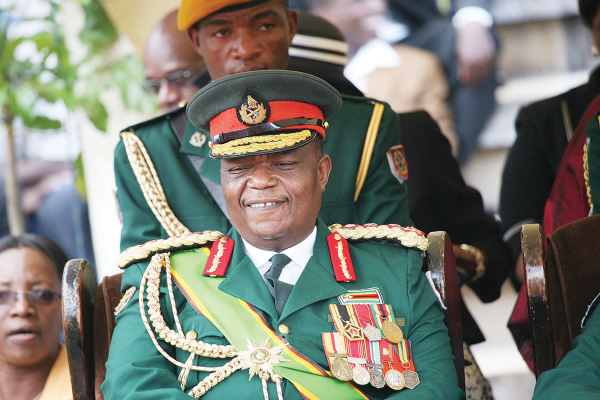 Zimbabwe's long-time leader President Robert Mugabe yesterday reportedly agreed in principle to step down after 37 years in power, although details of his exit conditions were still a closed-guarded secret at the time of going to print last night. BY RICHARD CHIDZA
Military and security sources said Mugabe, after delicate marathon meetings at State House, reportedly agreed to step down, bringing to an end one of the world's most controversial administrations.
"He has agreed in principle to step down. Details of his exit package are being worked out," a source said. "He will go into exile in South Africa tomorrow (today)."
Mugabe took power after the first all-race elections in 1980 and then set out to entrench his rule marked by both social development initially and a slide into authoritarian rule towards the end.
The beleagured Mugabe and Zimbabwe Defence Forces (ZDF) Commander General Constantino Chiwenga ended their make-or-break talks last night amid reports that the 93-year-old Zanu PF leader indicated that he would officially step down at the ruling party's extraordinary congress next month to allow for the selection of his successor.
This came as the Sadc Troika meeting in Botswana also agreed yesterday to call an emergency Sadc Summit to discuss Zimbabwe's worsening political crisis.
Mugabe, effectively "under house arrest" following Wednesday's dramatic intervention by the military, was reportedly demanding unconditional immunity for him and his family while the military wanted First Lady Grace tried for usurping executive authority from her ageing husband. "He is digging in, he wants protection for his wife, but her actions are the reasons for the military action. Initially, he wanted to use (Local Government minister) Saviour Kasukuwere and (Higher Education minister) Jonathan Moyo to bargain, but that has since been cracked. It's dicey, but a solution has to be found or the situation could degenerate into something that was unexpected," a top security source said.
Another source said Mugabe initially wanted the army "to return to the barracks" and stop interfering in civilian matters.
With public opinion in Harare indicating tacit approval of Mugabe's removal, although with a tinge of uncertainty over what the future holds, South African President Jacob Zuma in his capacity as Sadc chairperson despatched a team of two envoys who flew into Harare on Wednesday and began the painstaking work of bringing the protagonists to the negotiating table.
Zuma's Defence and Military Veterans minister Nosiviwe Mapisa-Nqakula and Intelligence minister Bongani Bongo assisted by South Africa's ambassador to Harare Mphakama Mbete were co-ordinating the talks to initiate Mugabe's exit, but the former guerilla leader was reportedly digging in, claiming he would only step down after losing an election.
"Mugabe had initially demanded that the talks be held at his Borrowdale home, but the military leaders refused arguing that was a private home," a source said.
An official at the South African embassy in Harare said details of the negotiations would only be known after the meeting. "The ambassador (Mbete) will only be able to comment after the meeting, but the envoys indeed are in Harare," said the official, dismissing claims the military chiefs had rebuffed Zuma's efforts at mediation.
Mugabe's situation seemed to be complicated by tacit international approval of his ouster with Zuma yesterday telling his country's National Council of Provinces that: "It is too early to take a decision on Zimbabwe. From here, I will be going to Botswana for the Sadc Troika meeting and I should get a full briefing on the issue. The Zimbabwe Defence Forces are correcting the situation in that country."
On Wednesday, the Foreign Affairs ministry even in the absence of minister Walter Mzembi called all envoys accredited to Harare for meetings.
In an official communication seen by NewsDay, the ministry said: "Please note that Foreign Affairs has called for the following meetings: Sadc ambassadors 2:30pm, African ambassadors 3:30 and all ambassadors 4:30."
It was not clear who addressed the meetings, but suspicion was it could have been Defence secretary Martin Rushwaya and other senior army officials.
Also heavily involved in the negotiations were Mugabe's spokesperson George Charamba and Roman Catholic cleric Father Fidelis Mukonori.
"They are acting as midwives and have been shuttling between the two camps," said a top government source who declined to be named for security reasons.
Mugabe only relented mid-morning yesterday and was allowed for the first time in nearly two days to leave his private home under military guard to the meeting venue.
His normally extraordinarily long motorcade looked severely depleted with only two police cars, his official limousine, four other support executive cars, three Land Cruisers, an ambulance and just three motorbikes.
There were apparently no sirens as is the norm as images emerged with two helicopters hovering above.
Insiders said two senior military generals accompanied Chiwenga. The nation remained in suspense yesterday as Mugabe and his former comrades heckled for an exit strategy that could bring to an abrupt end his near four-decade rule.
After 37 years in power, Mugabe was early this week pushed out as chaos rocked his Zanu PF party in a nasty internal power struggle for his succession that threatened to engulf the country. Chiwenga on Monday delivered a statement threatening to "step in" and restore order.
Insiders said Mugabe, following a Cabinet meeting, issued an order for Chiwenga's arrest late on Tuesday, forcing the military to take the "drastic action". Then early on Wednesday, Major General Sibusiso Moyo addressed the nation announcing the army had moved in.