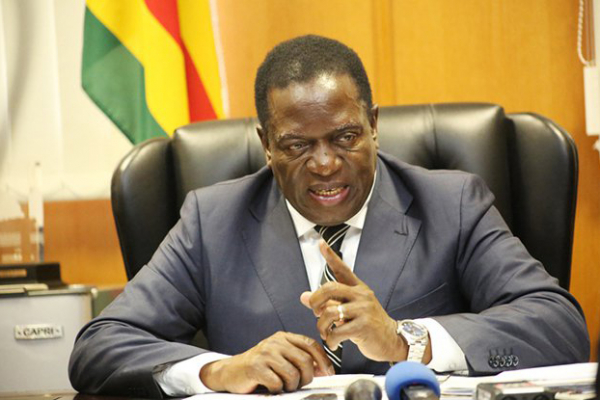 PRESIDENT Emmerson Mnangagwa has promised to arrest the ongoing cash shortages which have seen most citizens relying on the parallel market to get hard cash.
BY FIDELITY MHLANGA
The President said this on Friday in his inauguration speech at a time depositors are paying huge premiums to cash dealers to access cash.
"In the immediate, the liquidity challenges which have bedevilled the economy must be tackled head on and must be dealt with as a matter of urgency. People must be able to access their earnings as and when they need them," Mnangagwa said. Zimbabwe has been facing a cash crisis since last year.
The introduction of bond notes has failed to tame the crisis, experts attribute to low confidence in the economy.
Mnangagwa said the government would ensure a financial sector stability which promotes a savings culture.
"My government will ensure financial sector stability and viability and will put measures in place that promote deposits and savings through bank deposits and other appropriate financial instruments which bring fair rewards to depositors. The current banking culture where costs are levied on depositors must come to an end," he said.
He promised to act hard on corruption saying swift action will be taken come to weed out corrupt elements.
"Acts of corruption must stop. Where this occurs swift justice must be served. We aspire to have a nation with high moral standards," he said.
Economist Clemence Machadu said Mnangagwa had struck the right cord by calling for financial sector reform as this could be done by way of re-engaging international corresponding banks so that it becomes easy to do international payments.
"Right now we have a situation whereby local banks have lost dozens of international corresponding banks, with compliance measures being toughened for local banks by the remaining corresponding banks; making it difficult for the country to make international payments," he said.
Machadu said the underlying causes of the parallel market proliferation need to be interrogated and addressed.
Econometer Global economist Tinashe Kaduwo said the new government can deal with cash and foreign currency crisis by taming unnecessary expenditure.
"What we have is a cash and foreign currency crisis which was exacerbated by government's unbridled expenditure. This can only be solved by implementing reforms that encourage production, attract foreign direct investment and other foreign inflows as well as keep government spending in check," he said.