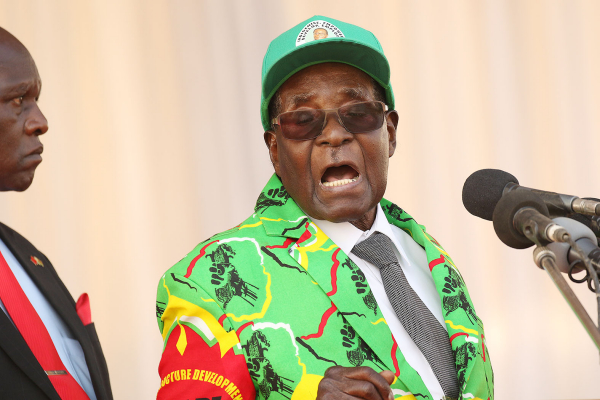 PRESIDENT Robert Mugabe yesterday finally succumbed to pressure from the masses, legislators and the military when he resigned as Head of State and Government ending his 37 year (mis)rule in a dramatic and unceremonious way.
BY VENERANDA LANGA
Just a week after the military intervened in what is dubbed "Operation Restore Legacy" which left him under house arrest, Mugabe avoided further humiliation from MPs debating his impeachment when he immediately tendered his resignation to the Speaker of the National Assembly Jacob Mudenda. MPs were busy debating a motion to impeach him during a joint sitting of both Houses at the Harare International Conference Centre.
The sitting was attended by all MPs as well as placard-carrying members of the public who were also allowed in to observe the live impeachment proceedings.
The impeachment motion was moved by Manicaland Senator Monica Mutsvangwa (Zanu PF) and seconded by Mabvuku-Tafara MP James Maridadi (MDC-T). But as MPs began to narrate the numerous reasons why Mugabe must be impeached, Justice minister Happyton Bonyongwe accompanied by Zanu PF secretary for legal affairs Patrick Chinamasa approached the Speaker with Mugabe's resignation letter and the impeachment proceedings were immediately aborted.
"With the powers vested in me as presiding officer, I terminate business and want to notify you that I have received in terms of section 96 (1) of the Constitution of Zimbabwe a letter from President Mugabe dated November 21st giving notice of resignation in terms of provisions of section 96 (1) of the Constitution," Mudenda said.
Mugabe's resignation letter read: "Following my verbal communication with the Speaker of the National Assembly at 13:53hours on November 21 intimating my intention to resign as President in terms of section 96 (1) of the Constitution, I hereby formally tender my resignation as President with immediate effect."
The resignation letter further read: "My decision to resign is voluntary on my part and arises from my concern for the welfare of the people of Zimbabwe and my desire to ensure a smooth, peaceful and non-violent transfer of power that underpins national security, peace and stability. I give notice of my resignation as required by section 96 of the Constitution to ensure proper legal processes are put in place so that the country moves forward with a President in place, and this will be done not later than tomorrow (today)."
Former Vice-President Emmerson Mnangagwa is set to be sworn in today as President after the ruling Zanu PF party appointed him first secretary and party president on Sunday.
According to legislative watchdog, Veritas, if the President ceases to hold office, the question of who takes over is determined by paragraph 14 of the Sixth Schedule to the Constitution.
"Under this paragraph, the Vice-President takes over until the President's political party — ie, Zanu-PF – nominates a new President and notifies the Speaker of its choice.
The party has 90 days within which to make its nomination. The nominee is then sworn in as President and holds office until the next general election," Veritas said in its analysis.
Veritas said of Vice-President Mphoko: "If Mphoko is persuaded to resign or is impeached, this will not happen because he will cease to be Vice-President upon his resignation or the passing of the impeachment motion. Even if Mphoko does not resign or is not impeached, his term of office as Acting President may be fleeting, and will depend on how soon Zanu PF can notify the Speaker that it has nominated Mnangagwa as Mugabe's successor."
Veritas also noted: "This may be no longer than the time it takes for the party's Chief Whip to walk to the Speaker's chair and hand in the nomination notice. Once that is done, Mnangagwa will become President [not acting President] and will assume office when he is sworn in by the Chief Justice in terms of paragraph 14(5) of the Sixth Schedule to the Constitution."
Before Mugabe's letter of resignation was read, Mugabe was attacked left, right and centre for his misrule and the unbecoming behaviour of his wife Grace.
Mutsvangwa said the National Assembly and Senate had resolved that Mugabe must be impeached on several charges such as serious misconduct, abrogating his constitutional mandate by allowing Grace to make utterances on issues of government like appointment and dismissal of government ministers and senior civil servants, and to glean highly confidential government communication.
"The President totally ignored all allegations of corruption and misappropriation of public funds, and an example is the Zesa scandal where $5 million was unlawfully and corruptly released to a known convicted criminal (Wicknell Chivayo) and some of the money ended up in a minister's bank account. He allowed his wife (Grace) to usurp government, abuse State resources, insult and humiliate Mnangagwa and other government officials. Mugabe allowed his wife to threaten to kill Mnangagwa and other government officials," Mutsvangwa said.
She said Mugabe also caused disaffection in the Zimbabwe Defence Forces allowing Grace to make false allegations against them, as well as harbouring fugitives like Higher Education minister Jonathan Moyo and Local Government minister Saviour Kasukuwere from justice. "Contrary to section 308 (2) of the constitution, he directed Finance Minister Ignatius Chombo to write to the Zimbabwe Anti-Corruption Commission justifying unconstitutional misappropriation of Zimdef funds by Moyo (Jonathan), thereby, defeating the course of justice. Contrary to section 297 of the Constitution he reversed the appointment of Prosecutor-General Ray Goba to protect Moyo from prosecution," Mutsvangwa said.
She said Mugabe had physical and mental incapacity because of old age and was unable to represent the country with the decorum and dignity expected of the office of the President as he always stumbled while walking, and fell asleep during international meetings to the horror and shame of Zimbabweans.
"We have even seen Mugabe read a wrong speech in Parliament. As the Women's Parliamentary Caucus we were removed honour by Grace –a woman who just shouts all the time," Mutsvangwa said as she asked MPs to impeach Mugabe.
Maridadi also gave a heart-rending speech where he narrated how Zapu freedom fighter Lookout Masuku was arrested, kept in detention by Mugabe and when he died, denied national hero status.
"I dedicate this debate to the memory of Itai Dzamara (journalist and activist) who disappeared and before he disappeared I had the privilege to speak to him on Thursday before he disappeared on Saturday and he said we are in the dawn of a new era," Maridadi said. Maridadi gave a stern warning to whoever would take over after Mugabe as President saying that person must listen to the people because Mugabe's fall was because he failed to listen to the people. This was applauded by all MPs across the political divide.
He said Mugabe held 15 million Zimbabweans to ransom, firing wantonly, dismissing his Vice-Presidents on allegations that they were plotting to assassinate him and dismissing two dozen ministers, and later reinstating some people that he had fired like Webster Shamu and Paul Chimedza, which showed that he was easily swayed.
The opposition legislator said Mugabe presided over the death of the Zimbabwean currency and economy, and even went on to appointing his 'poster boy' Chombo to become Finance minister despite his corruption history. "Mugabe's state of health is such that he cannot run the country. He tumbled at the airport, wobbled at a United Nations podium and in India in full view of the international community. There are 14 million Zimbabweans and most definitely one of us can run this country," Maridadi said, adding that Mugabe completely destroyed the health, education and all social systems to the extent that he ended up disliking the country's hospitals and opted to seek medical attention outside the country. Maridadi said Mugabe was only interested in his family and not the livelihoods of Zimbabweans.
Buhera West MP Oliver Mandipaka (Zanu PF) said he was debating with a heavy heart because Mugabe had been a revered freedom fighter and Pan-Africanist, but he had to go because there was so much infringement of the Constitution by him.
"Mugabe acknowledged that there is a crisis in this country. We congratulate Zimbabwe Defence Forces Commander General Constantino Chiwenga for moving in very fast to ensure we remain a peaceful nation," he said.
Another Zanu PF senator Shadreck Chipanga (Manicaland) said Mugabe's popularity further waned when he let his Mphoko to storm police stations and remove his corrupt cronies. "It is unfortunate that Mugabe is now leaving office through the wrong door, it has been my wish that he could have tendered his resignation and by now we could be clapping saying this is the man who liberated the country," Chipanga said.
Harare West MP Jessie Majome (MDC-T) said Mugabe's rule had left the country full of potholes as if there had been a nuclear explosion. She said as a result of misrule Zimbabwe had a shameful budget of $4 billion while poorer countries like Zambia had budgets of $12 billion. "Zimbabwe was fast becoming a laughing stock because of video images of Mugabe sleeping at functions and he also appointed only three women in his Cabinet saying there are no qualified women in this country," Majome said.
MDC legislator Priscilla Misihairabwi then touched on the most emotional issue of the 1980s Gukurahundi massacres in Matabeleland saying Mugabe must be impeached because he murdered 20 000 people. "This is also a man who is responsible for murders of people in the 2002 and 2008 elections. I need not be bribed or cajoled, I am clear that he needs to go," Misihairabwi-Mushonga said.
Before she could complete her contribution to the debate, Bonyongwe had already approached Mudenda with Mugabe's letter of resignation and it was then read to the ululation of MPs.