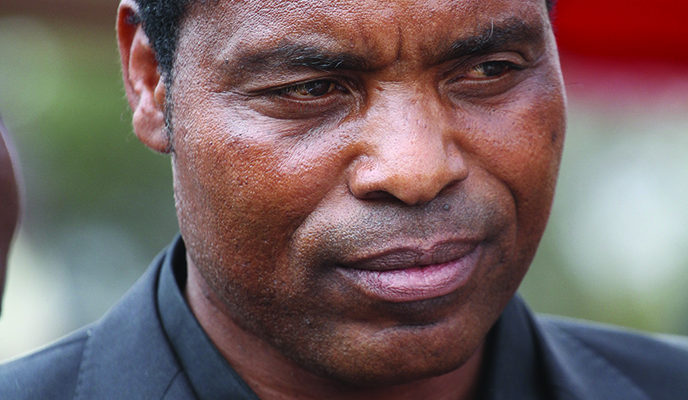 THE Chris Mutsvangwa-led executive of the Zimbabwe National Liberation War Veterans' Association (ZNLWVA) says it has made peace with former chairperson, Jabulani Sibanda, having vilified him for claiming that First Lady Grace Mugabe had staged a "bedroom coup".
by Garikai Mafirakureva
ZNLWVA national political commissar, Francis Nhando told Southern Eye early this week that they apologised to Sibanda after realising that his remarks were spot-on.
Nhando, who was flanked by members of Masvingo provincial ZNLWVA executive vice-chairperson, Ignatius Murindi and secretary-general, Benjamin Charles Nyamweda said they had apologised to Sibanda for not being quick to understanding what he meant with his statement.
"We want to say we are very sorry about our reactions to his statement. We have realised that when he talked of 'bedroom coup' he was spot on because Grace and the so-called G40 have already usurped power from Zanu PF. Grace is just a secretary for women affairs. Where does she have the powers to insult her boss, who is the vice secretary for the party?" asked Nhando.
He also took a swipe at Vice-President Phelekezela Mphoko and vice chairperson of a rival war veterans' faction, George Mlala, describing them as war deserters, who were trying to cash-in on the current leadership crisis in Zanu PF.
"We can't compare Sibanda with Mphoko and Mlala. Mphoko deserted the war, that's why he was able to marry a Mozambican woman during the struggle, while Mlala ended up as a taxi driver in Zambia," mocked Nhando
Murindi said Sibanda was an intelligent war veteran with intellectual capabilities that most war liberators lack.
"We worked with Jabu, especially here in Masvingo. I remember his mother was ill and later she passed away while he was here. He went to bury her, and came back to continue with his national duty only be repaid by scorn and disdain," he said.
Contacted for comment, Sibanda said he was happy that his colleagues had smelt the coffee and urged them to unite and work towards a common cause.
"It's now water under the bridge and I am happy my comrades decided to bury the hatchet and work against a common enemy trying to destroy the gains of our liberation struggle. I know I have been arrested for undermining the authority of the President — a matter which left me with legal expenses amounting to $12 000, but that won't deter me from joining my fellow comrades. I am glad they have realised their mistake and took a humble decision to apologise,"he said.