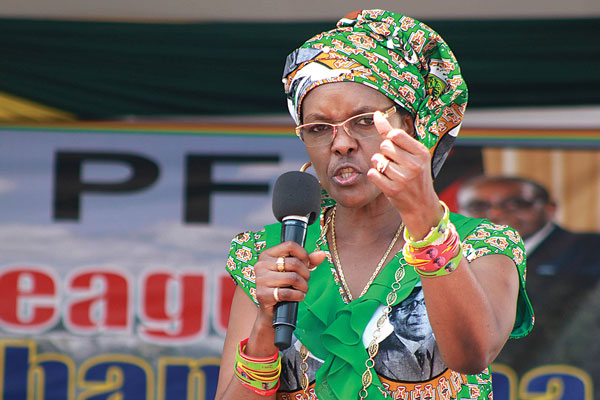 FIRST Lady Grace Mugabe has claimed that President Robert Mugabe has been threatened with death if a certain person does not succeed him, the clearest indication that Zanu PF's succession wars are getting messy.
by BLESSED MHLANGA/KENNEDY NYAVAYA
"We are being threatened day and night that if so and so does not succeed Mugabe, we will kill you with guns.
"Kill us? Let's see. Why are you not killing us?" she asked rhetorically on Thursday at the launch of the Empower Bank and the Zimbabwe Champions and Heroes of the Economic Empowerment Revolution (ZIMCHEER).
Grace said she and Mugabe would not bow down to such pressure and Zanu PF had a structured way of choosing the President's successor.
"We must all agree that when the President says one day he wants to leave office, then we must all agree, as a party, who will take over and not to hold guns against each other," she said emotionally.
"No to firing bazooka!
"We are being threatened day and night that if their preferred candidate does not take over we will be killed.
"We will not bow down to that pressure, never!
"You are going to arrest all of us and take us to prison, that's the only way you can rule."
In a telling statement that revealed how seriously Mugabe was taking such threats, Grace metaphorically said the President was sleeping with one eye open to thwart any coup.
"Some people behave as if while they were at war, they held two guns and fought the struggle by themselves," she continued. "We don't want to hear that.
"We want to be free.
"This is a free Zimbabwe.
"The President is sleeping with one eye open.
"I am not going to do that, I will sleep with both eyes closed, because I have bodyguards outside, who appreciate."
Grace warned that a coup would be dangerous for Zimbabwe, particularly as African leaders would not recognise a leader, who came to power through a putsch.
"They are saying they will stage a coup," she said, without naming anyone.
"No one will recognise a person who comes to power through a coup.
"You all know that the African Union will not recognise.
"Sadc will not recognise a person who comes to power through a coup and even talking about that issue is treason.
"We are not arresting you because President Mugabe is a person with a kind heart.
"If it was in other countries, people would have been in prison long back."
In the past, Grace has accused unnamed people of plotting to kill her children.
Grace, who was accompanied by her daughter, Bona and son-in-law, Simba Chikore, then tore into Vice-President Emmerson Mnangagwa, who was the subject of her fury, as claims that the latter was poisoned at Mugabe's rally in Gwanda in August refuse to go away. "Why would I want to kill someone appointed by my husband?
"Who is Mnangagwa?" she asked as the whole Harare International Conference Centre fell into silence.
"What is he on this earth? He is a nobody.
"If you get to a point of lying in politics, it means you are now clueless and if indeed you are, you should go home and rest (resign)."
Zanu PF is in the throes of a bitter factional war, which threatens to tear the party apart, as jockeying to succeed Mugabe nears a climax.
Two distinct factions, one said to be loyal to Mnangagwa known as Team Lacoste and another linked to Grace known as G40, are now openly facing off.