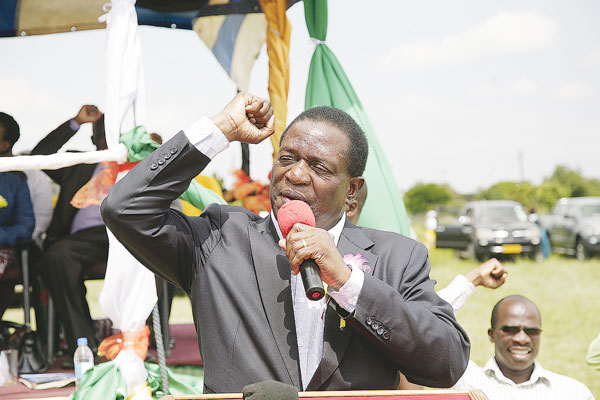 VICE-PRESIDENT Emmerson Mnangagwa has declared a bare-knuckle fight against his G40 rivals, saying it was now time up for the "johnny-come-latelies" who had lately turned him into a political punch bag.
By Everson Mushava/Blessed Mhlanga
Addressing Zanu PF members at the late Masvingo Provincial Affairs minister Shuvai Mahofa's memorial service in Gutu on Saturday, Mnangagwa said: "Those who joined the journey midway now think the journey is theirs, yet it's not and will never be."
Incidentally, most of his detractors in the G40 faction reportedly led by First Lady Grace Mugabe and political commissar Saviour Kasukuwere have no liberation war credentials, but are viciously campaigning to block his bid to succeed soon-to-be 94-year old Mugabe.
In a jibe towards his detractors that they will fail in their endeavour to demonise him, Mnangagwa added: "If you try to catch a fish by putting a snare on a rock outside water, you will realise that you won't catch it."
Grace told a recent Zanu PF campaign rally in Bindura that Masvingo and Midlands, considered as Mnangagwa's strongholds, and required restructuring as they had become hotbeds of factionalism.
But Mnangagwa shot down the claims, saying: "Masvingo is the best province, whatever anyone says. Those who castigate the province don't know what the future holds and when things come to a head, we will try to see where each one of us stands. Zvese zviri kutaugwa zvichapera kana nyaya yaakusvika kumagumo (everything being said and happening now will soon be over)."
The VP added: "Masvingo should not be intimidated or made inferior. Let's do our things in unity because there is nothing wrong with standing by the people from one's home province, so that in the end you are found alongside your relatives. We are a sovereign province we deserve respect."
Mnangagwa also opened up on his food poisoning scare, saying his detractors had attempted to poison him in the same way they allegedly did to Mahofa at a Zanu PF conference in 2015.
"I have come to tell you that what happened to Mai Mahofa in Victoria Falls is what also happened to me. "I am making tremendous recovery. Those who wished me dead will be ashamed because when God's time for one to die is not up, he will not die. I still have many years to live and the truth will come out," he said in a recording of his speech in the possession of NewsDay.
The Vice-President had to be airlifted to South Africa for urgent medical attention following the poisoning scare at President Robert Mugabe's youth interface rally in Gwanda in August this year.
His loyalists accused Mnangagwa's G40 rivals of poisoning him in a bid to physically eliminate him from the race to succeed Mugabe.
Mnangagwa last month dismissed speculative reports that he had eaten poisoned ice-cream from the First Family's Gushungo Dairies, although he did not dispute the poisoning narrative.
This came at a time Mnangagwa has filed a $3 million lawsuit against Higher and Tertiary Education minister Jonathan Moyo, accusing the Tsholotsho North MP of making malicious claims against him during a politburo meeting three months ago.
Through his lawyers, Dube Manikai and Hwacha, Mnangagwa in case number 9108/17 alleged that Moyo made false and damaging allegations against his person in a video presentation during a politburo meeting held on July 19.
"Plaintiff's (Mnangagwa) claim against defendant is for general damages for defamation of character of the gravity and extent of the case, pursuant to a video authored, presented circulated by defendant to the members of the Zanu PF politburo and the general public on or about July 19 concerning plaintiff which was per se defamatory," part of the summons read.
Mnangagwa denied that he attempted to kill former veteran broadcaster Godfrey Majonga or forced him to seat on a hot stove and challenged Moyo to prove the allegations in court.
"The video is patently false and contains numerous fabricated stories targeted at damaging the reputation of plaintiff and out-rightly tarnishing his character and standing in the eyes of the politburo and general public.
"Specifically, defendant makes scandalous and fallacious allegations against the plaintiff. All reference to the presentation and the video in these summons are made with regards to its reference to an incident involving Mr Godfrey Majonga, which include but are not limited to the following.
"Plaintiff attempted to murder Mr Majonga … forced Mr Majonga to either seat on a hot stove or alternatively jump from a window of the third floor of an undisclosed building in Harare," Mnangagwa's lawyers submitted.
Mnangagwa in his summons said the allegations made by Moyo were patently false and have affected his credibility and undermined him as the Vice-President of Zimbabwe and government official responsible for administering the Justice, Legal and Parliamentary Affairs ministry.
He gave Moyo up to 10 days to respond to the summons, although the latter was recently quoted as saying he was prepared to have his day in court against the Vice-President.