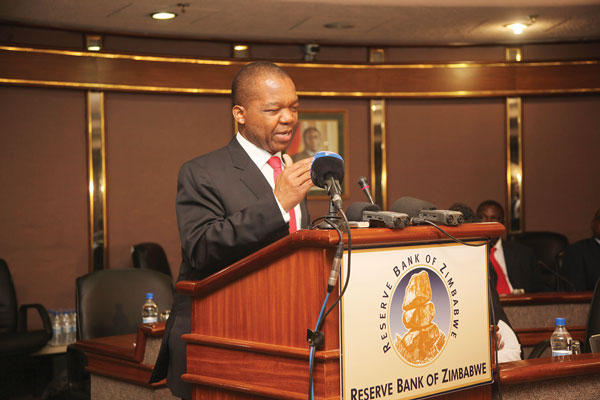 The Reserve Bank of Zimbabwe (RBZ) says it is finally working on an instrument to arrest cash dealers operating on the parallel market, where they are effectively controlling the economy with authorities literally folding their hands.
BY TATIRA ZWINOIRA
President Robert Mugabe on Monday threatened unspecified action against what he dubbed "economic saboteurs", accusing them of causing last week's shortages of fuel and basic commodities such as cooking oil.
In a phone interview with NewsDay on Monday, RBZ governor John Mangudya said the market indiscipline was too much, as witnessed by the panic buying that took place from mid last week into the weekend.
"Enough is enough. We have to take action against the parallel market operators. We are currently working on an instrument which we hope will help us deal with these black market dealers. I think that maybe we need to engage the police to make some arrests," he said.
"We have said it many times that there is a lot of market indiscipline. This is what is causing the panic buying in the shops because to us everything should be okay."
Mangudya said that the real problem was production and would keep on stressing that point, as a rise in on manufactured goods would lead to better exports.
Over the past week, there have been shortages of basic commodities, namely, cooking oil which is an imported product and fuel which was due to a shortage of foreign currency.
The shortage of foreign currency arose from an increased demand for cash which led to the shortages of some basic commodities and fuel akin to the hyperinflationary period of 2008.
The demand for cash resulted in the public rushing to cash dealers who saw an arbitrage opportunity and shot cash premiums to between 40% and 45%, transfers or hard cash.
However, economist Prosper Chitambara said making the arrests would not solve the problem and would only push these dealers further underground.
"It would just take those activities further into the underground economy. For as long as there are foreign currency shortages I think that will always create a breeding ground for parallel market activities. So if you make arrests what you are just doing is to further drive these activities into the underground so you are not actually illuminating the issue," he said.
Chitambara agreed with Mangudya that the economy's fundamentals had to be solved first to deal with the problem.
Cash dealers are taking advantage of the crisis as they are getting supplied by the "cash barons" with serious connections in the financial system including the ruling party Zanu PF.
The result of the shortages created panic buying where fuel stations and retail stores were swarmed by with people fearing a return to the 2008 hyperinflationary period.
Last week, the RBZ began drawing down on a $600 million nostro facility to ease the shortages.