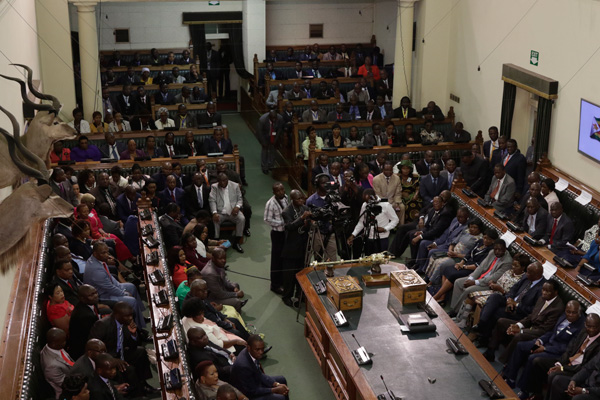 EMOTIONS ran high yesterday in the National Assembly as MPs almost shed tears debating a motion introduced by Proportional Representation legislator, Priscilla Misihairabwi-Mushonga (MDC) on the sexual abuse of girls as young as nine years old in Epworth, Mabvuku, Tafara and Dzivaresekwa.
BY VENERANDA LANGA/MUNESU NYAKUDYA
Misihairabwi-Mushonga, in a cracking voice, narrated how she, together with a human rights organisation, Katswe Sisterhood, and seconder of the motion, Mabvuku Tafara MP, James Maridadi (MDC-T), went to visit the affected minors that were allegedly sexually abused in a suspected prostitution ring.
She said her heart bleeds when she watches police officers being deployed to man fuel queues, when they were doing nothing to bring to book men, some as old as 65 years, that have been allegedly sexually-abusing the minors under the guise they were "girls selling sex" and paying them as little as 25 cents.
"On August 14, when I was invited by Katswe Sisterhood to go and see the abused girls, I assumed I was going to see 16-year-olds, but I was shocked to see children aged nine years describing that they get paid 25 cents by men about 60 to 65 years, and for two hours, I cried because most of the children were orphans and they were sick," Misihairabwi-Mushonga said.
"At places like Mabvuku-Tafara, there are beerhalls, where they even ask minors to get contracts from their parents so that they allow the girls to strip-dance. It's a shame that men go and watch these young children dance and they pick them to go and sleep with them."
The legislator said the abused girls narrated how they were subjected to horrendous kinds of sex act by the suspected paedophiles. "If police can pick 10 to 15 of these paedophiles and put them in jail, they will make a big statement, but, instead, they are manning fuel queues, which are problems we created ourselves," the legislator said.
She blasted Social Welfare minister Prisca Mupfumira and the provincial administrators' office for arresting and banning Katswe Sisterhood, an organisation that has been trying to assist the affected children, for exposing the rot.
"About 76% of people in this House are HIV positive and live on ARVs [anti-retroviral treatment], but you are unable to do something to save those children. The minister needs to come and give us a statement and explain what she has done," Misihairabwi-Mushonga said.
Maridadi said he reported some men in Mabvuku that are allegedly sexually abusing young girls, but to date, no arrests have been made, even though he provided addresses.
Maridadi also blasted the State broadcaster, Zimbabwe Broadcasting Corporation, for parading the children in front of cameras interviewing them.
Meanwhile, the 54 recently rescued girls are receiving psychological rehabilitation and assistance from the State.
Public Service, Labour and Social Welfare ministry secretary, Ngoni Masoka told a national dialogue on commercial sexual exploitation of children on Monday that the girls, who — all under 18 years, were being counselled.
"Rehabilitation of the children, specialist child protection services such as medical support, counselling and psycho-social support services are also offered to survivors," he said.
Masoka said the government appreciated the role the media played in raising awareness on the subject.
Harare provincial social welfare officer, Susan Ngani said: "We managed to remove 54 children from these harsh environments, and among them 18 had not yet been sexually abused.
"However, they were also victims of other abuses. Efforts are still underway to make sure that we remove more children."