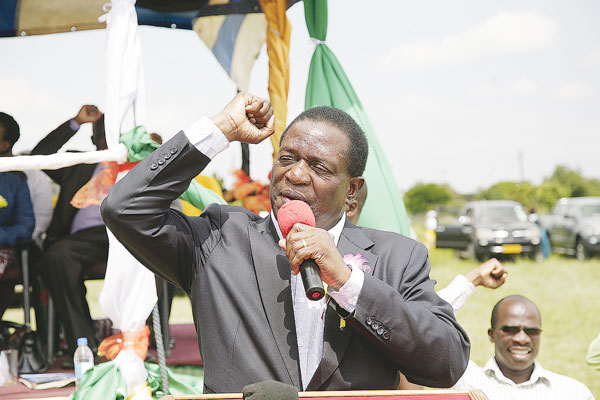 ZANU PF youth leader, Kudzanayi Chipanga was last Friday irked after a disc jockey played contemporary musician, Jah Prayzah's Mdhara Vachauya song at an interface rally in Gweru, telling thousands of party supporters that the song should only be played in honour of President Robert Mugabe.
By Stephen Chadenga/Blessed Mhlanga
The song, widely associated with Vice-President Emmerson Mnangagwa's bid to succeed Mugabe, is usually played at many State and Zanu PF functions, where Mugabe's deputy would be the guest of honour.
On Friday, the crowd went wild with cheers when Mnangagwa arrived at the rally in the company of his wife, Auxillia, with the disc jockey playing the song, courting Chipanga's anger.
"I heard the DJ playing the song, Mdhara Vachauya song and I wondered who that song was played for," the Zanu PF youth leaders said.
"The only old man is baba (father) Mugabe and all others like Mnangagwa are little uncles because the old man is one." Provincial spokesperson, Cornelius Mupereri claimed that an estimated 100 000 supporters attended the rally, where Mnangagwa made his first major public appearance after being taken ill following a food poisoning scare at a similar rally in Gwanda, three weeks ago.
"This could have easily been the biggest rally since the presidential youth interface rallies started and a clear display that Midlands, like the Vice President, are solidly behind President Mugabe and any other talk aimed at alienating us from the President is mischievous," he said.
A close source in the Midlands provincial executive said the rally was a show of Mnangagwa's power to those pushing for his ouster that he was a force to reckon with.
"We had to bring out our A game and show the party that Mnangagwa is not a push-over. We brought them (supporters) and they spoke," the source said.
G40, however, still had its own counter attack, with Higher Education Minister Jonathan Moyo claiming he had bussed in 16 000 students from various universities to the rally.
Former Zanu PF Mashonaland West provincial chairman and Norton legislator, Temba Mliswa acknowledged the effect of the rally on Zanu PF politics.
"It is certain now that without Mnangagwa, Mugabe will not make it. However, the President will also not elevate ED. Midlands stood by ED today and showed everyone that he matters," he said.