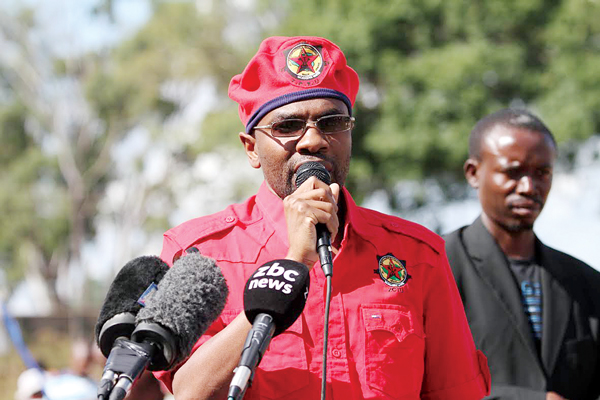 THE first half of 2017 saw 2 120 workers being retrenched, representing a 16% increase from the 1 825 laid off during the same period last year, the Zimbabwe Congress of Trade Unions (ZCTU) has revealed.
Online
ZCTU president, Peter Mutasa told journalists on Thursday that 4 610 companies had closed shop between 2011 and 2014, resulting in 55 443 workers losing their jobs.
Mutasa said this in his opening remarks at the launch of the book Towards a Democratic Developmental States in Southern Africa, published by the Open Society Initiative for Southern Africa in conjunction with the Labour and Economic Research Institute of Zimbabwe.
The ZCTU boss said the economy was regressing structurally and de-industrialising, a situation he said had immensely contributed to the number of informal workers, who now constitute more than 90% of the country's labour force.
"The share of informal employment in total employment increased from 80% in 2004 to 84,2% in 2011 and 94,5% in 2014," Mutasa said.
"The majority of informal workers are at the very bottom of the economic and social ladder, working under precarious conditions without access to any form of social protection."
He said there was a huge deficit of decent work in the country's informal sector, with most of their work being casual, unprotected, excluded, unregistered and unrepresented.
"The worst affected are the youth, who have little labour market experience. The 2014 Labour Force Survey reveals that as much as 98% of the currently employed youth aged between 15 and 24 years and 96% of currently employed youth aged 15 to 34 years were in informal employment," Mutasa said.
He noted that 72% of the population were living below the poverty datum line mainly because past development policies did not put the people first and were anti-poor in nature.
"This is exemplified by the high and worsening levels of un and under-employment, poverty and inequality," Mutasa said.
"Moreover, the current macro-economic policy framework in particular the fiscal policy remains highly consumption oriented, leaving very little fiscal space for operational, capital and social expenditure."
The ZCTU president said even when the country experienced some form of economic growth, especially during the inclusive government, the growth was not job rich, pro-poor and inclusive.
He said the book was coming at an opportune time, when the government was in the process of re-engaging the international community, adding it was his hope that it would spur national dialogue around fundamental issues affecting the country's economy.