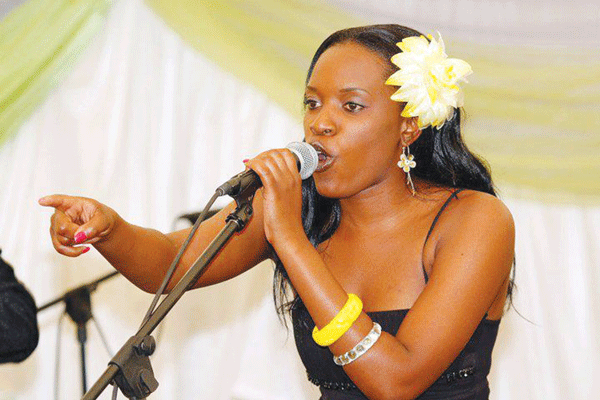 BY WINSTONE ANTONIO
Malaxo Beer Hall, Beitbridge
Malaxo Beer Hall in Beitbridge will tomorrow host the Chibuku Road to Fame Matabeleland South provincial finals. Several groups will entertain revellers as they fight for honours to book the ticket to represent the province at this year's national finals set for September 30 at Glamis Arena in Harare. The ultimate winners will clinch the main prize of $7 000 and a recording contract, with the first and third runners-up pocketing $5 000 and $3 000 respectively.
The Chibuku Road to Fame music talent showcase is a grassroots talent identification programme sponsored by Delta Beverages, through their Chibuku brand, in partnership with the National Arts Council of Zimbabwe.
Alexandra Sports Club
Jamaican chanter, Beenie Man, will belt out dancehall tunes tomorrow at the inaugural Spring Festival set for Alexandra Sports Club in Harare. This will be his second concert in Zimbabwe after his maiden performance in 2010. He will be in the country as part of his Unstoppable Tour in Africa and will share the stage with Winky D, Jah Prayzah, Souljah Love, Queen Vee and Cindy Munyavi, alongside an array of wheel spinners including DJ RayDizz, Rax the DJ and Judgement Yard.
Longcheng Plaza
Jamaican dancehall artiste, Demarco, will stage his maiden performance in the country at the Shooting Star Concert set for Longcheng Plaza in Harare, where he will share the stage with Trevor Dongo, Kinnah, Souljah Love, Cindy Munyavi, ExQ, Guspy Warrior, Boom Beto and Freeman alongside DJs Gary B and Templeman, Blesh, Ashy Styles and Nivek.
Chitsuwa Restaurant
Flamboyant rapper Stunner will tomorrow entertain guests at the Harare International Carnival build-up hip-hop concert set for Chitsuwa Restaurant in Harare.
2 Canterbury Kensington
This year's edition of the annual Zimbabwe International Film Festival (ZIFF) roars to life tonight with the ZIFF Unplugged Music Nights concert at number 2 Canterbury Kensington, Harare. The film fiesta, that will be held in collaboration with the International Image Film Festival (IIFF), will present programmes including film workshops, outreach, short film projects and the Hi-5 short film competition which will see the winner getting a camera worth $500, while the IIFF will be presenting their second edition of the women Entrepreneurs Publicity Hub.
Wingate Park Golf Course
Winky D will tomorrow headline this month's Unplugged Zimbabwe concert set for Wingate Park Golf Course, Pomona in Harare. The Gafa hitmaker will share the stage with Afro-centric musician Munyaradzi Nyamarebvu backed by Roots Kalimba, Tariro Negitare, Reverb 7 and TK on the turntables. Unplugged Zimbabwe is a monthly blankets and wine style music concert hosted in a family-friendly environment.
Harare Gardens
Acclaimed Indian violinist, Lakshminarayana Subramaniam, will tomorrow entertain guests at Harare Gardens at a concert that is part of the ongoing second edition of the India in the Sunshine City Festival. Subramaniam will share the stage with local music legend, Oliver Mtukudzi. On the same day, Reps Garden in Belgravia hosts the Bollywood Dance Workshop with Gilles Chuyen. The festival is a joint effort of the Indian Embassy in Zimbabwe and Team Arts Work showcasing India's cultural mix of classical and contemporary music, theatre, dance, food, films and yoga.
Midlands State University
Organisers of the annual talent show, DreamStar Zimbabwe, the Chinese Federation of Zimbabwe and Jacaranda Culture and Media Corporation tomorrow take the ongoing auditions of the show to Midlands State University. DreamStar Zimbabwe seeks to empower local talented youths who are in the arts and culture, to help them move from the backstage to the official stage.
Zimbabwe-German Society
Afro-centric musician Munyaradzi Nyamarebvu will tomorrow stage a concert dubbed Journey to America set for the Zimbabwe-German Society in Harare ahead of his month-long cultural exchange programme, One Beat, in United States. Guests at the show will include Germany ambassador to Zimbabwe, Thursten Hutter, US ambassador to Zimbabwe Harry K Thomas, Zimbabwe-German Society director Taremeredzwa Chirewa Nengare and Harare mayor, Bernard Manyenyeni.
AfriKera Dance Theatre Hub
AfriKera Dance Theatre Hub in Harare tonight hosts a double treat concert from the Dzorera Series of Workshops featuring dance by the AfriKera Arts Trust and theatre by the Complete Arts Project Trust in collaboration with the British Council, Zimbabwe Germany Society, Pamberi Trust and Zimbabwe Theatre Writers and Directors Unit.
Jazz 24/7
Mugove hitmaker Leonard Zhakata tonight performs at Jazz 24/7 in Harare. Tomorrow he will be at Pamudhara Leisure Spot at Chans Shops along Chiremba Road in Hatfield.
Pakare Paye Arts
Pakare Paye Arts Centre in Norton tonight hosts Afro-jazz musician Ashton Tapiwa Nyahora, popularly known as Mbeu. Tomorrow he will take his acts to Bulawayo's Legends Sports Diner.
The Usual Place
The Usual Place at Cresta Jameson Hotel in Harare will tonight reverberate to the sounds of mbira as Hope Masike entertains patrons.
Club Mandisa, Mutare
Rhumba fans will be in for a treat tonight as BV Labien entertains patrons at Club Mandisa, supported by pole dancers and Mandisa Queens.
Mkhekhelezi Leisure Centre
Umahlekisa Comedy Club's stars Clive Chigubu and Ntando Van Moyo will be at Mkhekhelezi Leisure Centre in Gwanda tonight. The comedians will share the stage with wheel spinners, DJ Zee DKJ, Ace and Sheriff Deep Nator.
Bulawayo Theatre
Seven Imbube groups will tomorrow serenade patrons as they showcase their vocal and dancing skills on one stage at the second edition of the Rise Up Chotoza Mfana Imbube Expo set for Bulawayo Theatre.