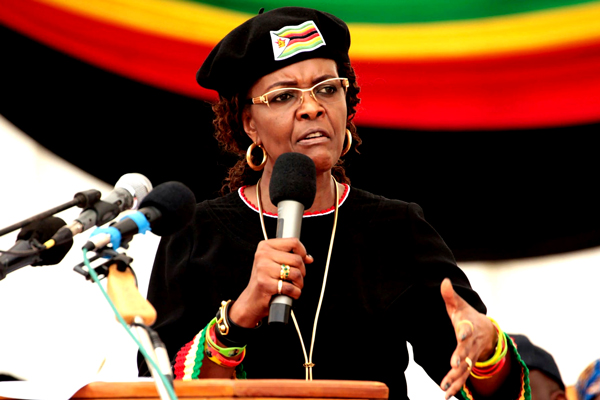 THE South African government yesterday issued a "red alert" to bar Zimbabwean First Lady Grace Mugabe from leaving that country after allegations she assaulted a model she found partying with her sons, as it emerged that a third party tried to pay the victim of the assault, but was rebuffed.
BY RICHARD CHIDZA
Afrikaaner rights group AfriForum, which has taken up model Gabriella Engels' case, revealed the attempted payoff at a Press conference in Johannesburg, South Africa.
"The family has been approached by a third party," AfriForum's Gerrie Nel, who gained superstardom for the prosecution of athlete Oscar Pistorius, said.
"They were told 'let's talk and let this thing go away'.
"There was no amount mentioned, just an indication that Grace Mugabe wanted to settle out of court. The family is not interested in that at all.
"May I just say that the word settlement and criminal prosecution doesn't go hand in hand … we want justice … I was impressed when the family turned down the money. It's not about money, it's about justice."
This comes as South Africa's Police minister Fikile Mbalula said officials at that country's points of exit had been told not to allow Grace to leave South Africa, triggering the likelihood of a diplomatic tiff over the Zimbabwean First Lady.
"There was an agreement that she was supposed to appear in court and she didn't appear until the point where issues of immunity had to be attended to," he said.
"In terms of the South African police, we had already put tabs at the borders in relation to her leaving the country, so there is no question about it.
"The red alert has been put, she is not somebody who is running away from what she said. In fact, she has her own version of events. It is not up to us to engage, but our investigators are looking at the case and will engage with her."
But AfriForum claimed Grace had actually tried to flee.
"We have also been told by the Department of Police that there have been efforts by Mrs Mugabe to leave the country and we will consider making an application to the High Court if diplomatic immunity is granted," an official told the Press briefing.
Acting Police Commissioner Lesetja Mothiba told Parliament Grace had made authorities to wait all day before claiming immunity.
Grace allegedly attacked Engels after she found the model in a hotel room with her two sons, Robert Jnr and Chatunga Bellarmine.
The Zimbabwean government has invoked diplomatic immunity for Grace, claiming she was attending a Sadc summit in South Africa.
AfriForum yesterday also wrote to South Africa's International Relations minister Maite Nkoana-Mashabane saying President Jacob Zuma's government should not grant Grace diplomatic immunity.
"We are also exploring the possibility of a private prosecution if the National Prosecuting Authority decides not to," an official said. "There is also the possibility of political interference, especially around the issue of diplomatic immunity."
The group said because of the likelihood of interference, they had decided to embark on a parallel process.
"We wrote a letter of demand to the minister highlighting the legal framework on legislation relating to diplomatic immunity," the official continued.
"Diplomatic immunity cannot be used to escape from prosecution on grave crimes, which are a crime for which one faces five years or more. It appears this is a prima facie case of assault with intent to cause grievous bodily harm.
"It is a grave crime and the Department of International Relations is not in a position to grant immunity to the First Lady of Zimbabwe.
"We have noted that to the minister that her decision will be an administrative one that we think she must provide reason for. We will consider challenging if it goes the wrong way."
Gabriella's mother, Debbie, had earlier pleaded with authorities in South Africa to deny Grace diplomatic immunity.
"I have told Gab (Gabriella) that she must be proud of herself for speaking out, no matter what people are going to say about her because there will be people who will trash her," she said.
"I am glad that she is not going to be one of Grace's victims, who just accepts and moves on. I also know that this Grace woman is not gonna back down. She is gonna fight all the way."
As the drama unfolded in South Africa, Mugabe's government in Harare remained mum, with Information minister Christopher Mushohwe feigning ignorance of the case.
"What case are you talking about? I am not aware of it. Do you have a case number?" he said.
Reminded that the government had already written a note verbale, an unsigned diplomatic letter seeking immunity for Grace, Mushohwe retorted: "That is not the responsibility of my department. Check with Foreign Affairs."
Foreign Affairs minister Simbarashe Mumbengegwi is already in South Africa attending the Sadc Council of Ministers meeting, while the ministry's secretary Joey Bimha's mobile number was unreachable.