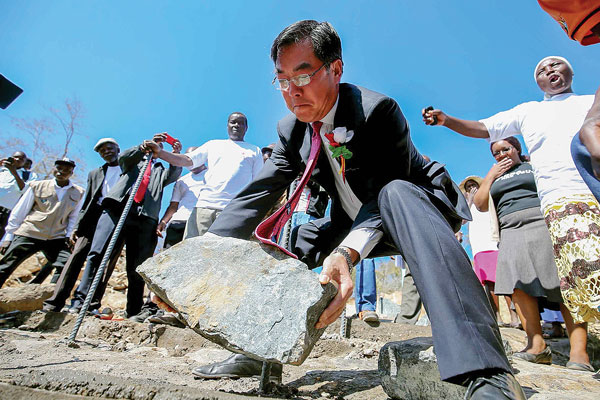 OVER a million people in the rural areas face hunger at the peak of the coming lean season, a top World Food Programme (WFP) official has said.
By Jairos Saunyama
Speaking during the official handover of a weir dam and nutrition garden in Shauke, Zvishavane yesterday, WFP country director Eddie Rowe said up to 1,1 million people will need food security in the coming months and that there is need to build resilience for future shocks.
"The recent ZimVac [Zimbabwe Vulnerability Assessment Committee] report on rural livelihoods still estimates that up to 1,1 million people will face food insecurity in the coming months. We know that now is the time to devote all our efforts to enhancing the abilities of communities and households to recover and build resilience for future shocks," he said.
The lean season is between October and March.
Government is currently boasting of a bumper harvest following the implementation of the initial season of command agriculture, a project meant to end hunger in the country.
Meanwhile, thousands of villagers from the dry rural area of Shauke are set to benefit from the 39 000 cubic-metre weir dam that is currently under construction.
The project, that will also see the establishment of a 1,3ha nutrition garden, is being funded by the People's Republic of China through the Chinese Aid.
Speaking during the same event, Chinese Ambassador to Zimbabwe Huang Ping said his country has donated another $5m to be used during the lean period.
"In 2016, China provide $1m for lean season assistance and productive asset creation, for which we are holding the handover now.
"And today, I have more good news to share with you. Just several days ago, the Chinese government decided to donate $5m to Zimbabwe through WFP in 2017 which will be spent in the 2017-2018 lean season on assistance and support to refugees, benefitting approximately 107 000 people," he said.