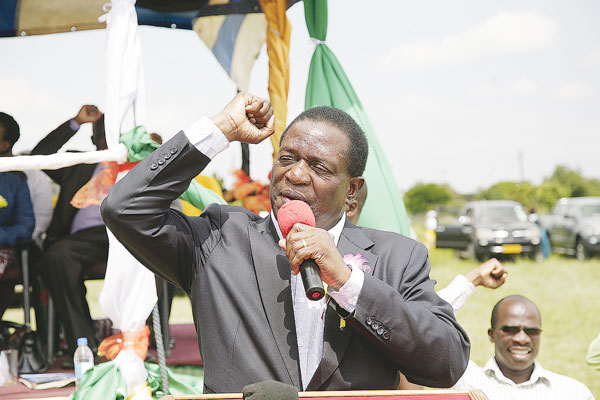 PRESIDENT Robert Mugabe flies into a fierce political storm in Gweru on Friday, where he is scheduled to address a Zanu PF youth interface campaign rally, with Vice-President Emmerson Mnangagwa's loyalists threatening to use the occasion to hit back at their rivals for allegedly food poisoning the "Midlands godfather" in an assassination attempt, two weeks ago.
BY OBEY MANAYITI
Midlands province is home to Mnangagwa and one of his strongholds in the fluid Zanu PF succession politics.
His supporters yesterday vowed to fight back after being politically dressed down at the last six successive campaign rallies in other provinces since May this year.
"We don't care what has been happening in other provinces. What I can tell you is that in Midlands, you will not see a repeat of that nonsense. It's not time to divide the people and party supporters cannot travel from various parts of the province to listen to divisive elements. That will not happen," a senior official, who declined to be named, said.
"We have order in this province and we are not there to protect individuals. I don't know of the faction you are referring to (Team Lacoste), but the truth of the matter is that we don't want to hear about those faction talks here."
Mnangagwa is still smarting from a suspected food poisoning scare following an interface rally held in Gwanda two weeks ago.
But Mugabe on Saturday dismissed Mnangagwa's poisoning and witchcraft claims, urging party members to regularly undergo medical examination for underlying ailments.
Mnangagwa was airlifted to South Africa following a severe bout of abdominal discomfort, vomiting and diarrhoea, as his allies strongly suspected that he had been poisoned in the succession fights.
Information minister Christopher Mushohwe last week ruled out the "poisoning" narrative, saying Mnangagwa's stomach could have been upset by "stale food".
"What the doctors think happened is that perhaps he ate some stale food, which then means it is really not poison in the sense that the people are trying to allege," Mushohwe last week.
He refused to explain why Mnangagwa would be flown to South Africa for treatment due to contamination through eating stale food.
Highly-placed sources close to Mnangagwa last week told NewsDay that South African doctors discovered that the VP consumed non-radioactive poison, which could require a systems flush-out over the next two months.
Zanu PF has been divided into two distinct factions — Team Lacoste, reportedly sympathetic to Mnangagwa, and First Lady Grace Mugabe's G40, whose other key players are Higher Education minister Jonathan Moyo and party commissar Saviour Kasukuwere.
At other interface rallies, Team Lacoste has been on the receiving end, with Grace leading the onslaught against perceived Mnangagwa allies.
However, Midlands provincial youth chairman Prosper Machando chose to be diplomatic yesterday, saying they would not give in to factional forces at the rally.
"We support President Robert Mugabe and we don't belong to any faction. There won't be anything called factionalism at the rally. Factionalism is only for those leaders in Harare and why would people expect it here? There would be nothing like that unless if you are telling me that President Mugabe himself is a faction," Machando said.
He said preparations were at an advanced stage for the Friday rally to be held in Gweru.
"This is not about competition, but we are expecting 120 000 people to attend. They are all coming from this province. It's possible to have such a number," Machando said.