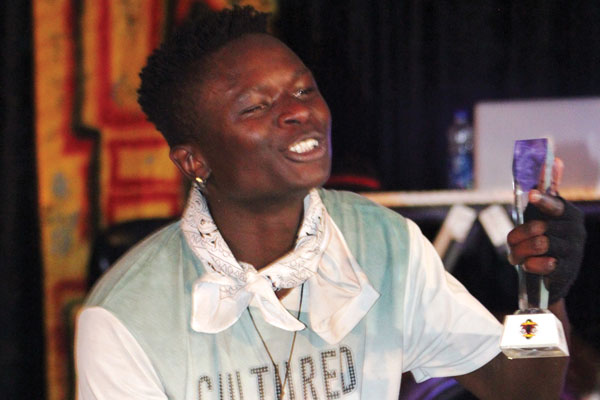 CHITUNGWIZA dancer, Panashe Gabi broke a six-year jinx to clinch pole position after shrugging off stiff competition from 79 other contestants, during the Rivalskool Battle at the 10th edition of Jibilika Dance Festival held over the weekend.
BY ARTS REPORTER
Gabi will represent Zimbabwe at the Ultimate Battle Rivalskool in France on December 10.
He came in as a dark horse, and danced a storm on Saturday at Theatre in the Park, grabbing the sole ticket to France after six years of trying to win the event.
"I can't believe this! It's been years of trying and finally I have won. This is so overwhelming," said the ecstatic dancer.
Kudzai Chikowe (19) of Kuwadzana was in second place, with 11-year-old breakdancer Mickel Simenti of Dzivaresekwa coming third after beating older and seasoned dancers.
Simenti, a product of Jibilika's Breakin' Barriers project which runs in several neighbourhoods, offering dance classes to youths, looked confident and determined during his performance.
His mentor, Fungai Chivende, was excited about the victory.
"This was his first ever battle and I am proud of, and inspired by, the result. I feel encouraged to keep on doing more and teaching more kids how to dance," he said.
The Jibilika fiesta, which was held between August 18 and 19 in Harare, saw several workshops being conducted in the city centre and Dzivaresekwa.
The fête began on Friday last week with a street talent show at Joina City in Harare's CBD dubbed the Jibilika Cypher, which saw dancers, beatboxers and musicians showcasing their talent to the applause of hundreds of onlookers.
The acrobatic dances drew cheers from the audience, who were left in awe and clamouring for more.
This year's edition attracted more female participants under the Strictly4Girls programme established to reach out to the girl child.
Jibilika Dance Festival is an annual event of dance and youth culture promoting positive social behaviour among youths through the Step Up 2 HIV programme.