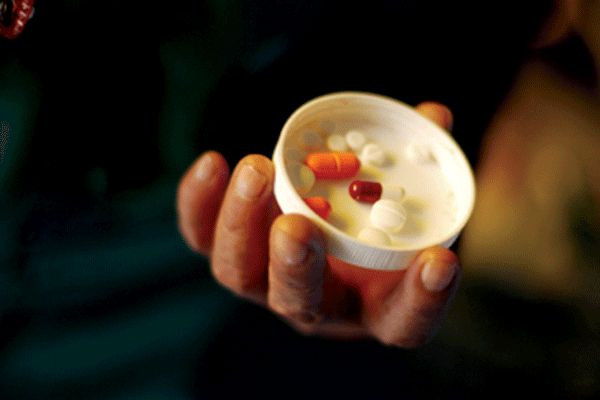 GLORIA Mudhingo (45) looks happy as she goes about her work in the tuberculosis (TB) and HIV and Aids consultation rooms at Zvimba Rural Clinic, a few kilometres away from Murombedzi business centre.
BY NHAU MANGIRAZI
Clad in a yellow dress and a red jersey, the heavily-built mother of two looks like any other villager as health officials at the clinic are all clad in their uniforms.
She looks like the odd one out when other village women are scattered around the nearby business centre selling vegetables, fruit and second-hand clothes.
As a group of health journalists on a provincial media tour arrive, Mudhingo is about to dash off to Masiyarwa village located 10km away.
Although the media tour is focusing on TB issues, Mudhingo believes her side of the story must be heard.
"TB cases are now surpassing those of HIV but in reality when someone is diagnosed of HIV, he or she remains a suspect in contracting TB. We must work as a community in addressing these issues, but we are facing the challenge of defaulters around here," Mudhingo, who is the Community Linkages facilitator, says.
Her roles include making follow-ups on patients on anti-retroviral therapy (Art), who are supposed to adhere to their treatment regime to suppress their viral loads.
But for Mudhingo, too many defaulters in the communal areas of Zvimba district are breaking her heart.
"We have had 70 defaulters since January and this figure is alarming, as we have targets, as a nation on HIV matters," she said.
Mudhingo, who has been living with HIV since 2006, says she wants to lead by example.
"Being HIV positive is a condition that we cannot wish away. Once you are positive, it is part of your life. We must train many of our members of the community to understand it better. The main challenges we face in making follow-ups are that some HIV patients did not disclose their status to close relatives and family members," she said.
Mudhingo suggests that it is imperative that HIV+ people should be part of support groups, as this will ease the burden of thinking that they are family outcasts.
"I am a member of the Positive Women Support group here in Zvimba. As a family, we are supportive of each other's needs and challenges on both social and health matters. No one can live as an island, so we must talk to each other," Mudhingo said.
Zvimba Rural Clinic, established in 1957, has a catchment area for 107 981 people and has 370 TB patients, according to the senior nurse-in-charge, Elias Nyama.
HIV and Aids consultant, Mucha Cynthia Mukamuri attributes defaulting to several factors, including when patients begin to feel better and discontinue treatment.
"This is a reflection of lack of information when patients commence Art. Stigma continues to exist in our communities. Some people are not comfortable with being seen taking medication or they just become too busy," she said.
"In some cases, the distances travelled to collect medicines can be prohibitive. The waiting period at the facility also compounds the problem. Some people are not patient to wait or their jobs are too demanding to make it easy for them to take their medication."
Mukamuri, however, said realisation that one was HIV positive could be overwhelming, triggering fear and worry.
"This comes as a shock. It can bring feelings of anger, fear, regret and even panic that are often hard to contain. It is normal to feel this way, but there is need to seriously reflect and accept the situation and take the necessary steps with support from both family and service providers," she said.
Mukamuri said committing to take treatment was the first big step, which included getting the requisite information about the condition.
Community Working Group on Health (CWGH) executive director, Itai Rusike said defaulters had to live with the stress of an untreated disease that put them at risk of further illness or death.
"People living with HIV are expected to remain adherent to treatment and are labelled 'defaulters' when they don't," he explained.
"The basic pillar of any public health system is the supply of medicine to clinics and hospitals, and stock-outs are indicative of a bigger problem related to management and accountability."
Rusike said there was need for eating healthy, exercising, getting adequate rest and early treatment for any opportunistic infections if a person was to successfully manage HIV.
"Most facility level stock-outs are not a result of supply shortages, but of poor management of the distribution of medicines. The government should fully fund strong, accountable, community-based treatment literacy and adherence support along with strong social protection programmes," he said.
Rusike concurred with Mukamuri that stigma and discrimination undermined HIV prevention efforts by making people afraid to reveal their status, seek HIV information, services and modalities to reduce their risk of infection.
"Fear of stigma and discrimination, which can also be linked to fear of violence, discourages people living with HIV from disclosing their status even to family members and sexual partners and undermines their ability and willingness to access and adhere to treatment," he said.
"Thus, stigma and discrimination weaken the ability of individuals and communities to protect themselves from HIV and to stay healthy if they are living with HIV."
Rusike said patients were relatively dependent on public services for Art and faced difficulties in affording prices in private pharmacies.
"There are logistics and supply chain management challenges, stock-outs of HIV test kits and medicines, inadequately decentralised paediatric Art services and Art initiation for children, unpredictable external funding and inadequate private sector reporting," he said.
Rusike said Zimbabwe had made great progress from being among countries with the highest HIV prevalences in the region, but expressed concern that gender dynamics still played a big role in infection patterns.
"High gender differentials in HIV suggest that social norms and behaviours continue to put young females at risk. There have been significant improvements in service availability, although with shortfalls in continuity of medicine supplies. These shortfalls need to be addressed together with access to food and gender inequality so that Aids does not become a disease of poverty," the CWGH boss said.
"While the policies, institutions and programmes are in place to respond to prevention, treatment and care needs, resources are still lacking for the scale-up required. Additional measures are needed to promote uptake among vulnerable groups."
Rusike said supply, cost and access barriers to paediatric treatment and prevention of mother-to-child transmission services in rural, low-income populations needed to be addressed.
Mukamuri also noted that nutrition played a critical role in HIV management.
"There is need for eating healthy, exercise, adequate rest, early treatment for any opportunistic infections and a stress-free life if a person is to get better from HIV-related illness," he said.
United Nations targets by 2020 are that at least 90% of all people living with HIV will know their HIV status.
By the same year, 90% of all people with diagnosed HIV infection will receive sustained anti-retroviral therapy and 90% of all people receiving anti-retroviral therapy will have viral suppression.
Should this happen, then Mudhingo will keep on smiling, as the number of defaulters goes down.