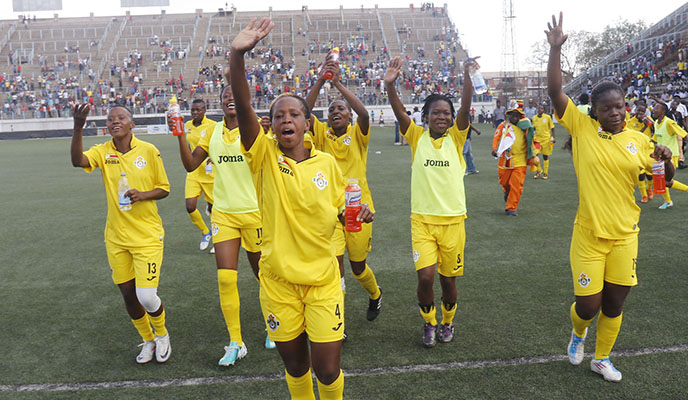 ORGANISERS of the Cosafa Women Championships set for Bulawayo next month expect an exciting and competitive competition, with a record 12 nations set to compete.
BY HENRY MHARA
Eleven countries from the region have already confirmed their participation at the 11-day tournament, kicking off on September 13.
Cosafa countries that will battle for honours are Botswana, Lesotho, Madagascar, Malawi, Mauritius, Mozambique, Namibia, South Africa, Swaziland, Zambia and hosts Zimbabwe. They will be joined by guest nation Kenya.
"The event will arguably be the most important ever for women's football in Southern Africa, as it brings together 11 of the 14 countries from the region, as well as an East African guest nation, Kenya. Never before has there been side such a wide turn-out for the competition and it will be a huge boost to the development of all sides that take part," the organisers said in a statement yesterday.
Banyana Banyana and the Mighty Warriors, Africa's only two representatives at the 2016 Rio Olympic Games, will naturally start as favourites to win the title.
But they will obviously not have it easy against the other nations, with the participants using the competition to prepare for the 2018 African Women Cup of Nations (Afwcon) qualifiers, which start in February next year.
The finals will be staged in Ghana in November. The Afwcon tournament serves as a qualifier to the 2019 Fifa Women's World Cup in France.
The draw for the Cosafa pool stages will be done in late August.
The local organising committee will hold their first meeting tomorrow, to start preparations for the tournament.
South Africa have won the tournament three times since its inception in 2002, beating Zimbabwe in the finals twice.
Zimbabwe will be defending the title they won the last time the tournament was played in 2011, when they also hosted it. They defeated South Africa 1-0 in the final.
The Mighty Warriors, now coached by Sithethelelwe "Kwinji 15" Sibanda, are yet to begin camp for the tournament, which is just a month away.