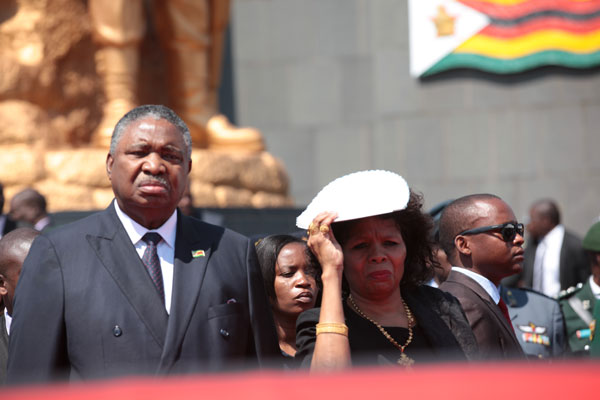 THE Zanu PF party and government was coy on factional skirmishes that rocked the national shrine at the burial of national heroine Shuvai Ben Mahofa where party members occasionally booed and humiliated Vice-President Phelekezela Mphoko during proceedings.
By Everson Mushava
Mahofa died on Monday in Masvingo in what her relatives and members of a Zanu PF faction aligned to Vice-President Emmerson Mnangagwa said was a result of the food poisoning on the Masvingo political heavyweight at a Zanu PF conference in Victoria Falls two years ago.
She was buried at the national shrine on Sunday at an emotionally-charged event officiated by Mphoko, where those allegedly sympathetic to the Lacoste faction felt the Vice-President could not preside over the burial of the former Masvingo Provincial minister because he belongs to the rival G40 faction.
Mahofa's death came at a time Mnangagwa was in South Africa receiving medical treatment after being airlifted at President Robert Mugabe's Gwanda youth interface rally two weeks ago on suspected food poisoning.
At the burial, Zanu PF youths aligned to Mnangagwa walked out on Mphoko in protest and this triggered chaotic scenes that led to the youth clashing with the security details as well as leaving the national shrine while the VP was still addressing.
But government spokesperson Christopher Mushohwe and Zanu PF spokesperson Simon Khaya-Moyo yesterday refused to comment on the matter, throwing the responsibilities at each other in what could suggest that the Zanu PF factional fighting was fast turning into a hot potato.
Mushowe refused to comment, referring all questions to Khaya-Moyo, claiming that the burial of heroes at the national shrine was party business, despite there being a statute, the National Heroes Act gazetted by the government.
"It is not a government event. Burial of heroes at the National Heroes' Acre is a party event, call Cde Simon Khaya Moyo (Zanu PF spokesperson)," Mushowe said before hanging up.
The Zanu PF spokesperson was, however, also coy, referring questions back to Mushowe, saying the burial of heroes was government business.
"This is government business. Call Minister Mushowe. I was not around. I have just read about it in the newspapers," Khaya-Moyo said.
Mugabe confers national hero status to deceased persons who distinctively served the country.
He has been accused by opposition parties of abusing his authority to honour only people from his Zanu PF party.