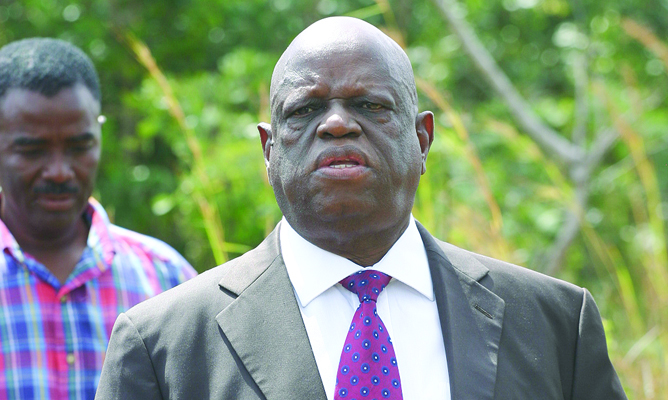 WAR Veterans minister Tshinga Dube has scoffed at calls by Vice-President Phelekezela Mphoko for him to dump the Zimbabwe National Liberation War Veterans Association led by his predecessor and Zanu PF outcast Christopher Mutsvangwa.
BY RICHARD CHIDZA/NQOBANI NDLOVU
Mphoko reportedly told a Zanu PF inter-district meeting in Bulawayo at the weekend that Dube would "fall" because of his association with Mutsvangwa and ZNLWVA secretary-general Victor Matemadanda.
"Cde Tshinga you are right, but do not include Matemadanda and Mutsvangwa in your issues. If you lean on those two, you will fall for sure," Mphoko reportedly said.
But Dube would have none of it.
"I do not lean on anyone. I do not lean on Mutsvangwa and Matemadanda. I just follow rules," he said in an interview yesterday.
Mphoko also reportedly demanded that Dube recognises and work with a faction of the former fighters fronted by Manicaland Provincial Affairs minister Mandi Chimene and George Mlala.
In reply, Dube said he would only work with "legitimate groups".
"The ZNLWVA led by Mutsvangwa is the legitimate association and we will continue to work with them. It is not about Mutsvangwa as an individual. If Mlala can go back to the others we will work with him. If he forces a congress and is elected to lead the ZNLWVA even if someone else is elected we will work with them," Dube said.
"If they want to form their own association, we will recognise them as well. The High Court ruled that we should recognise the leadership that is in place and that is what we are doing."
Mphoko is reportedly a leading figure in a faction of Zanu PF known as G40, which is allegedly pushing for First Lady Grace Mugabe to succeed President Robert Mugabe. The group which is reported to be bitterly opposed to Vice-President Emmerson Mnangagwa's bid to take over the reins is now rooting for Defence minister Sydney Sekeramayi instead.
Grace, two weeks ago, torched a storm after she demanded that her husband, who is battling with old age and a litany of ailments, anoints a successor.
Mutsvangwa was acerbic in his response to Mphoko.
"Mphoko should behave like the VP of a law abiding country. He has a patchy war record that ended up with an AWOL to marital bliss in Maputo as his erstwhile comrades braved through the final heroic combat. Mphoko is (the) clandestine leader of Mthwakazi (and) believes in hazy hereditary accession to power and dynastic delusions. He has no reason to be in such a high post save for political caprice and chicanery," he said.
"On the other hand, Dube is a revolutionary democrat, who seeks legitimacy from the popular vote. His credentials are impeccable all the way to independence in 1980 and beyond." Mlala yesterday pledged to close ranks with Dube following their recent nasty fallout.
"I have no problem working with the War Veterans minister. The only difference between me and him is that he is a minister and I am a member of the war veterans association," Mlala said.
"Otherwise, we respect him and accept that he is a minister and as a member of the association it is prudent that we work together. I am prepared to work with Dube. If given an opportunity to sit and talk and iron out our differences, I am positive that we can find each other and work together for the good of the party. Our relationship is longer than what was happening now and it was unnecessary."