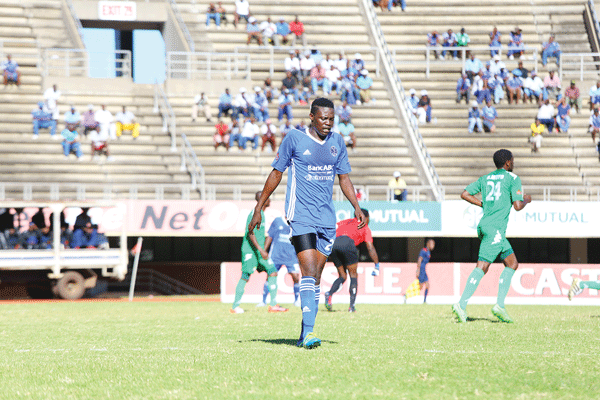 HARARE football giants, Dynamos are crying foul over the judgment by the Premier Soccer League (PSL) disciplinary committee, which ruled that their abandoned Castle Lager Premiership match against Chapungu last month be continued from the time it was stopped.
BY TAWANDA TAFIRENYIKA
The match officials decided to end the game on 56 minutes at Ascot Stadium in Gweru on June 18 after a goalpost fell with Dynamos leading 4-0, courtesy of goals from Emmanuel Mandiranga (brace), Denver Mukamba and Cameroonian Christian Ntouba.
Chapungu, who were the home side, tried in vain to fix the post, forcing Martin Chivandire, the referee on the day, to call off the match.
The PSL did not give a date for the match, saying they would make an announcement in due course.
And the Dynamos hierarchy is charging that they have been given a raw deal, as the judgment is not clear on whether their fans, who had paid for the initial match, would be allowed to enter the stadium for free.
Dynamos are also unhappy with meeting the costs for the match.
"We are partly happy with the judgment. But the problem with it is that it does not say what will happen to our fans, who had travelled all the way to Gweru to support the team. Of course, we might say we will go and play, but we consider the whole of our family. We are a family and we should know what will happen to our fans. We also wonder why this (disciplinary committee) took so long to come up with this judgment. It's something that should have been done immediately. There wasn't any reason to continue dragging on this issue," club president, Keni Mubaiwa, who is also the PSL chairman, said.
The judgment by the PSL disciplinary committee released yesterday, read: "The abandoned match to be resumed in the 56th minute on the same scoreline of 4-0 in favour of Dynamos and on a date to be determined by the PSL. Each team shall meet its own costs in respect of the match."
PSL spokesperson, Kudzai Bare yesterday said they would only comment if they receive any complaints from the two teams.
Should Dynamos hold on to win, it would put them on a good footing in the league race, where they appear to be fighting against Ngezi Platinum, Chicken Inn and FC Platinum.