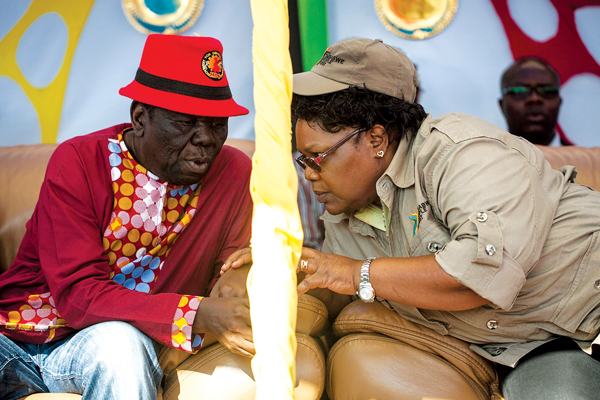 MDC-T leader Morgan Tsvangirai's planned coalition with his National People's Party (NPP) counterpart Joice Mujuru has reportedly hit turbulent waters in what insiders claim are disagreements over the presidency and allocation of parliamentary seats ahead of next year's elections.
BY RICHARD CHIDZA
Tsvangirai has been working to cobble a grand coalition with other parties in a bid to present a united opposition challenge to President Robert Mugabe's near four-decade rule, with Mujuru targeted to bring in the "liberation war component" to give balance to the envisaged pact.
"The possibility of a coalition between Tsvangirai and Mujuru is dead in the water," a top MDC-T source said yesterday.
NewsDay has it on good authority that the MDC-T had by early yesterday sent a written response to Mujuru, details of which were not yet readily available.
Impeccable sources said Mujuru and Tsvangirai had failed to agree on how to share legislative seats in next year's general election.
"Mujuru wants an equal share of seats even in urban settlements, which are our traditional strongholds," the source revealed.
"But we think what she is supposed to bring to the table is the rural vote.
"If indeed she walked away from Zanu PF with some sort of support, then she needs to bring with her at the very least the Mashonaland provinces (East, West and Central)."
Tsvangirai is now working on bringing together his former colleagues in the "original MDC".
"We are now working on a coalition of people who were in the original MDC formed in 1999," a senior People's Democratic Party (PDP) member said.
"This will bring together Welshman Ncube (MDC) and Tendai Biti of PDP."
PDP secretary-general Gorden Moyo confirmed talks between Biti and Tsvangirai.
"It is common cause that all opposition party leaders have been meeting at least once fortnightly under Zinera (Zimbabwe National Electoral Reforms Agenda), under the banner of Code (Coalition of Democrats) and under the auspices of Mass Opposition Movement," he said.
Moyo, however, denied the possibility of a reunion of the "original MDC".
It is also understood that talks between Biti and Mujuru collapsed over lack of trust.
"There is growing uneasiness with Mujuru because she has a tendency of prevaricating on agreed positions," a source said.
"There is fear that in the event of a Zanu PF implosion, she could hook up with her old colleagues and we might wake up in the ruling party or as part of one of its factions.
"So we have agreed that if the bigger picture is to eventually join up with Tsvangirai, we would rather go straight than take chances with Mujuru."
Mujuru is also said to have angered Biti by failing to attend the PDP's anniversary celebrations in Bulawayo despite having committed to do so.
"She was in the city (Bulawayo) and promised to attend, but did not," the source continued.
"We had agreed that she would sign with Code, but then she demanded an agreement with PDP first.
"We learnt she wanted to use this as a bargaining tool in discussions with Tsvangirai."
Trust in Mujuru among opposition forces is also believed to be waning after it emerged "she is still in constant touch with Mugabe".
However, an NPP source disputed this.
"Our MDC-T colleagues have allocated to themselves 119 seats, 14 of which they have intimated that they will give to Ncube (MDC) while they propose that we take up 91 legislative seats.
"The PDP is not even in the picture.
"We have argued that the issue of allocation of seats should involve structures in order to guard against dual candidates.
"The NPP also wants the use of one logo and name in next year's election to show the electorate that indeed we are in it for keeps.
"But the MDC-T wants a Zapu/Zanu scenario, in which they keep their name and also take the leadership of the coalition without giving away anything.
"The seats they have chosen are predominantly in urban settlements, while they propose we take up the rural seats," the source said.
Tsvangirai already has interim agreements with Ncube, Mujuru and other smaller parties, but wants a broader coalition which brings in Biti.
But MDC-T spokesperson Obert Gutu yesterday claimed talks were continuing with the possibility of an announcement at the weekend.
"We continue to talk. Coalition talks are on between us and all parties in the democratic movement including the National People's Party," he said.
"We are hoping to make an announcement on August 5."
NPP secretary-general-designate Gift Nyandoro also insisted talks were ongoing.
"We have exchanged position papers. This means our negotiating teams have reached a certain point where decisions have to be made," he said.
"Remember, we also have a memorandum of understanding that has a clause in which in the event of a deadlock on negotiations, the principals, in this case president Mujuru and Tsvangirai, have to meet and find a solution.
"These channels will have to be exhausted and only then can we make a public announcement on the coalition issue."