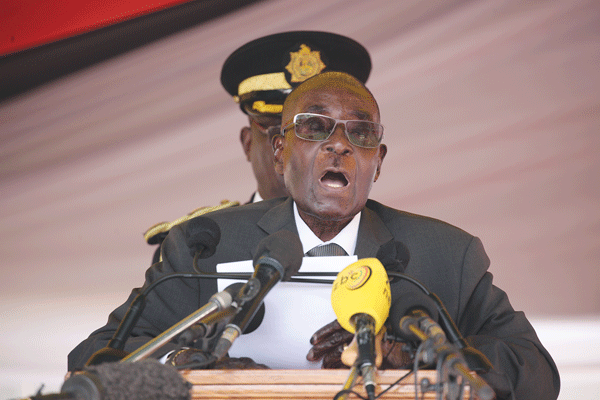 AFTER attracting brickbats following his bootlicking that bordered on blasphemy in Marondera a few weeks ago, where he described President Robert Mugabe as an angel, Zanu PF youth secretary, Kudzanai Chipanga has gone a notch higher, saying the veteran leader was Jesus's equal.
BY NUNURAI JENA
Speaking in Chinhoyi this week at a meeting to prepare for Mugabe's upcoming youth interface rally in Mashonaland West, Chipanga claimed the Zanu PF leader was only second in the hierarchy of God's kingdom, a position he shared with Jesus Christ.
"Yes, President Mugabe's middle name is Gabriel. He was given that name by the prophets after realising he has some resemblance," Chipanga gushed.
"He is our Messiah, just like Jesus Christ when he liberated the world. Jesus, when he came, liberated the world and when President Mugabe came, he liberated us in this age . . . we honour God, then Jesus Christ and President Mugabe."
Chipanga told Zanu PF bigwigs that they must forget about getting the youth's support, as this was reserved for Mugabe only.
"And to you, senior leaders, don't mistake the respect we have for you. Yes, we respect you, but when it comes to support, we support only one person in the party and that person is President Mugabe, not any other individual," he said.
Mashonaland West acting Zanu PF chairperson Tawanda Rupiya accused the police of corruption and looting gold at some mines in the province while pushing the youth out.
Youth political commissar Innocent Hamandishe tried to silence Rupiya, but the damage had already been done, as some youths started chanting: "Eldorado, Eldorado, Eldorado!"
Zanu PF youths accuse the police of removing them from Eldorado Gold Mine in order to loot.
Mashonaland West province is next to host Mugabe's youth rally on a date yet to be announced this month at the Chinhoyi University of Technology.