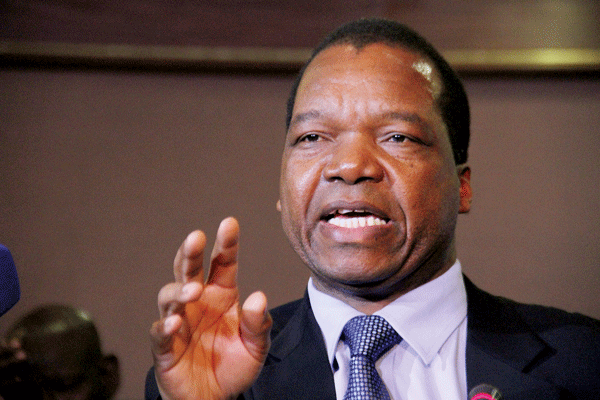 RESERVE Bank of Zimbabwe (RBZ) governor says he is worried about the creation of money through the issuance of Treasury Bills and loans which is causing a mismatch between local RTGS balances and nostro accounts balances.
By Fidelity Mhlanga
RBZ governor John Mangudya said banks have $1,5 billion in terms of RTGS balances against $350 million cash, adding that the country was creating money through an overdraft.
"Right now for our local dollars we are just at about $1,5 billion as measured by RTGS balances. So 40% of $1,5 billion is about $600 million, which means we need about $600 million in the nostros and cash in the banks, but right now we are at about $350 million versus $600 million. So it means the local dollars are more than the foreign dollars.
How do we match equals? I can talk the whole day about this. This where Zimbabweans need to find solutions. How do we match equals? So what are the sources of local dollars.
They are coming from bank balances and where are these sources coming from? Overdraft," Mangudya told delegates at the Institute of Chartered Accountants of Zimbabwe winter school last week.
An overdraft is a deficit in a bank account caused by drawing more money than the account holds.
He said the issuance of loans was widening the mismatch between local balances and money held offshore.
"I see the CBZ and ZB CEOs are here. So if those banks provide you with a $1 000 loan today, we are creating money in Zimbabwe, but not creating counterpart money from foreign currency. By creating money by overdraft it means that we have created more local dollars without a corresponding increase in foreign currency, so there is a mismatch. They call it a dead on arrival. What it means is the local dollars are more than the foreign dollars. That's why I am saying to banks don't give too much loans to the business community and everyone because you are putting too much pressure on foreign currency. Now that's the first creation of money," he said.
The RBZ boss said the issuance of Treasury Bills was also worsening the country's problems.
"The second creation of money is through the Ministry of Finance by providing Treasury Bills. When the ministry [of Finance] finances the government there will be an overdraft by the RBZ. It means there will be money creation. Those are the two fundamentals of creating money in Zimbabwe. Those dollars are not backed by foreign currency because people who are exporting are independent from those creating the local dollars. When minister Chinamasa is paying civil servants, say about $20 million above his revenue in a month, that $20 million has nothing do to with exports coming in the country. They are independent. The idea is we need to manage them now," he said.