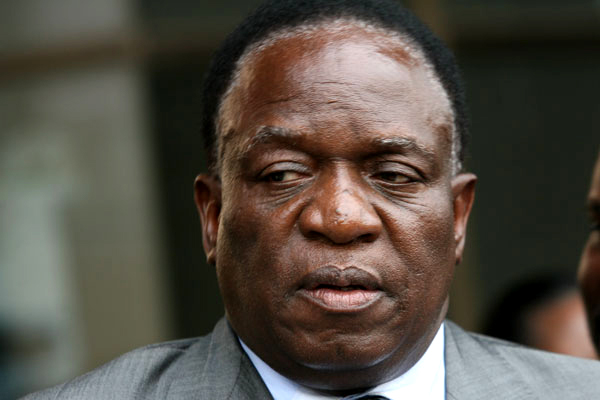 VICE-President Emmerson Mnangagwa's Constitution Amendment Bill yesterday sailed through the National Assembly despite resistance from opposition MPs, who spent almost three hours filibustering and trying to stifle its passage.
BY VENERANDA LANGA
The Bill seeks to effect the first amendment to the Constitution passed in 2013.
A total of 182 Zanu PF legislators voted for passage of the Bill, which also seeks to change the way the Chief Justice, Deputy Chief Justice and Judge President of the High Court are appointed.
Opposition MPs fruitlessly fought to block it and their request for a recount of the ballot papers went unheeded.
According to section 328 of the Constitution, a constitutional amendment Bill must be passed by a vote of at least two-thirds of MPs in the National Assembly, and also two-thirds of the Senators when it goes to the Upper House.
In yesterday's vote, the Bill needed at least 180 of the 270 MPs in the House to vote for it. Zanu PF legislators, including ministers that rarely attend Parliament, were present to ensure the Bill sailed through.
When Mnangagwa moved that a debate on the 2016 annual budget, which was being discussed in the House, be adjourned to allow for the third reading stage of the Constitution Amendment Number 1 Bill to resume, MDC-T chief whip, Innocent Gonese, supported by Kuwadzana East legislator, Nelson Chamisa, stood up and accused the Vice-President of disrespecting Parliament by pushing for his sponsored Bill to take precedence.
"Mr Speaker, you must protect Parliament and MPs," Chamisa said.
"There is debate on an important budget motion, and it is terrorism of the highest order that MPs are stopped from debating.
"We will ultimately go and vote, and shall not be fragmented into voting because the Executive wants to go."
But Mnangagwa stood his ground, saying Parliament should prioritise government business, including passing the Bill.
After lengthy debate on the matter, Speaker Jacob Mudenda then ordered that voting should proceed.
Chamisa suggested a secret ballot so that MPs would vote freely, but his proposal was again quashed by the Speaker, who ruled that there be no secret ballot.
However, there were discrepancies during voting, where the Speaker first announced that the affirmative votes to pass the Bill were 187 votes.
MDC-T MPs claimed there was rigging and demanded a recount of the members that voted affirmatively.
There was recount of the votes and during verification, it turned out that the number of votes had dropped to 182, a figure which was, however, enough to pass the Bill.
Zanu PF legislators sang "Gushungo" (President Robert Mugabe's totem), as they celebrated their victory, while opposition legislators retorted, "Save" in reference to MDC-T leader, Morgan Tsvangirai's totem.