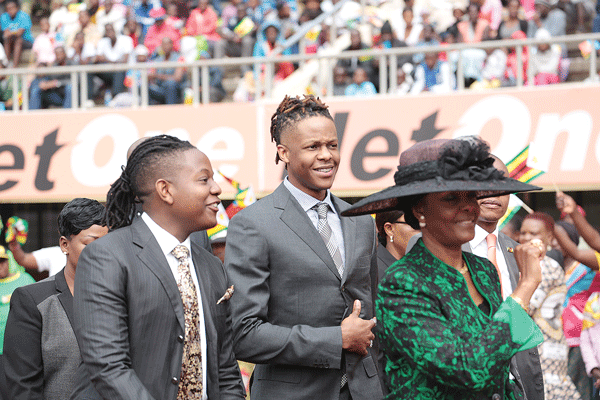 FIRST Lady Grace Mugabe has admitted that her two sons — Robert Junior and Chatunga Bellarmine — notorious for a wild partying lifestyle, have taken to beer binges and drugs. Grace told family and friends at her sister's birthday party in Shamva on Sunday that her two sons were giving her sleepless nights.
BY OBEY MANAYITI
"Nowadays there are spirits attacking our children. The spirit of drinking, drug abuse and doing other abnormal things way beyond their age," Grace said, indicating she could be on the verge of a breakdown.
"If I am to say women stand up to talk about your children, very few women can be brave enough to talk about that without breaking down."
President Robert Mugabe has in the past also complained about his two sons' wayward behaviour. Grace said that like any other children, Mugabe's sons were prone to the problems facing ordinary families.
"I am telling you because the behaviour of children does not matter if they are the President's children or not. All children are mischievous these days.
"I have seen parents wearing torn clothes because their kids are demanding top-end trending clothes. In schools and universities, children are competing on fashion and they do not heed to parental advice," she said.
Chatunga and Robert Jnr were reportedly evicted from a luxurious apartment in South Africa's most affluent area of Sandton in Johannesburg after a violent brawl that left one security officer with a broken leg and arm, our sister publication the Zimbabwe Independent exclusively reported a fortnight ago.
Grace missed Mugabe's youth interface rally in Masvingo three weeks ago after she went to sort out the mess created by her sons in South Africa.
The pair was reportedly evicted from a luxurious apartment where other tenants were complaining of their wayward behaviour.
Before settling in South Africa, Mugabe's children were in the United Arab Emirates where they reportedly had some brushes with the law mainly over fights and banned substances.
Grace's first child from an earlier marriage, Russel Goreraza, has also not been spared from controversy with reports claiming he was eyeing to join the legislature. The First Lady has reportedly set her sights on Harare South.