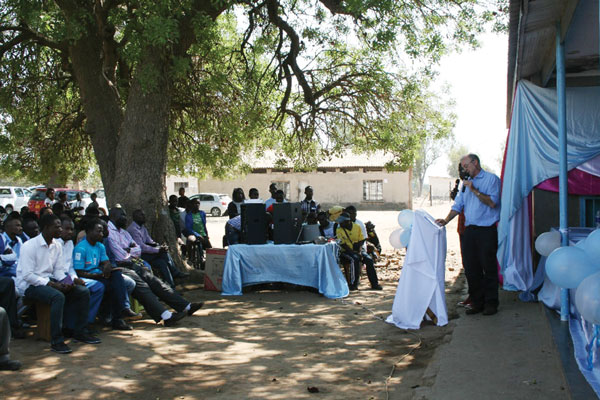 The government is paying refugees in the country a stipend of $13 a month, but an official from the Public Service ministry insists Zimbabwe is a preferred destination for exiles fleeing insecurity in their countries.
By VENERANDA LANGA
So good is Zimbabwe that some of the exiles have now set up tuckshops and supermarkets, as there is an enabling environment in the country, Public Service secretary, Ngoni Masoka told members of a parliamentary committee yesterday.
"It is the ultimate responsibility of the host government to care for and protect refugees and asylum seekers," he said.
"A refugee is someone who has run away from their country of origin for fear of persecution or due to threats of war, and some of them may be professionals like doctors. "They can apply for work permits or get into self-reliance projects, and some of the best tailors in the country are refugees."
Zimbabwe's main refugee camp, Tongogara has seen its population rise from an average of about 3 000, in past years to 10 000 an issue that had legislators worried about the security of the exiles.
Masoka told the Parliamentary Portfolio Committee on Public Service chaired by St Mary's legislator, Unganai Tarusenga that they were working with the World Food Programme (WFP) and other partners to ensure the refugees were fed and healthy.
Some of the partners that work with the government and the United Nations High Commissioner for Refugees (UNHCR) are Goal Zimbabwe, which is involved with water and sanitation, Terre-des Homes from Italy, which supports health and education, while WFP provides food at the camp and the Jesuit Refugee Services, a branch of the Roman Catholic Church does pastoral work.
Masoka said the government is also in the process of trying to alleviate teacher shortages, especially for A level students at Tongogara camp.
"The UN and other non-governmental organisations come in to complement the efforts of the government through operational and tripartite agreements signed by all implementing partners taking part in country operations," he said.
"We were able to discuss with the Education ministry and were able to determine [that] 11 more teachers [need] to be deployed at Tongogara camp.
"The UNHCR has committed to pay salaries for those teachers."
But, legislators from the committee, who recently visited Tongogara Refugee Camp in Chipinge, as well as the holding camp at Waterfalls found dire living conditions there, such as overcrowding and unhygienic conditions, which did not impress them.
MPs said they are concerned about security at the camp, where only four security officers are deployed to take care of the 10 000 refugees.
Rossy Mpofu (Zanu PF Proportional Representation) urged the Public Service ministry to beef up security at the camp, saying, for example, if a fight among the refugees were to break out, it would be difficult to control.