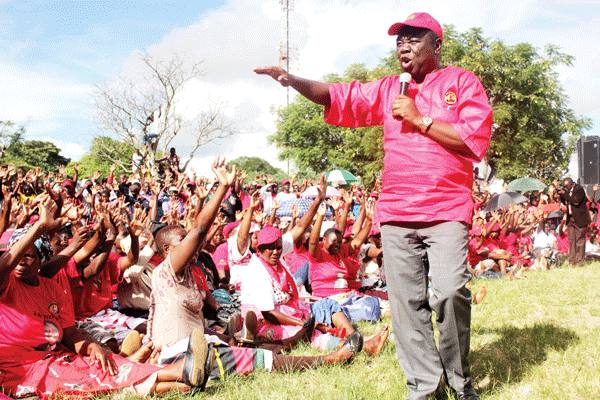 The Zanu PF party yesterday said MDC-T leader Morgan Tsvangirai can continue to sign as many memoranda of understanding (MoUs) with other opposition parties, but the coalition outfit should brace for an embarrassing electoral defeat in next year's general elections.
BY EVERSON MUSHAVA
Zanu PF spokesperson Simon Khaya Moyo said the ruling party would never be threatened by a coalition of "nothing".
Khaya Moyo made the remarks after Tsvangirai on Wednesday said opposition parties would conclude negotiation talks by the end of this month to form a grand conation to break Mugabe's hegemony.
"We can never be threatened by anything," Khaya Moyo said. "They can sign as many coalitions or MoUs, but that will still translate into nothing. It won't win them anything in terms of votes.
"They will continue swimming in confusion. The more they are, the better. We wish them luck. They have signed many MoUs, but they can't even find a president. They are always fighting. They will continue fighting until the elections."
The opposition parties are pursuing two coalition agreements, one around Tsvangirai, and the other around the Coalition of Democrats (Code).
Tsvangirai has signed agreements with National People's Party leader Joice Mujuru, Welshman Ncube's MDC and Transform Zimbabwe leader Jacob Ngarivhume.
Mujuru is, however, reportedly contemplating crossing the floor to join Code, dumping Tsvangirai over differences on who should lead the coalition and sharing of constituencies in the next polls.
Both Mujuru and Tsvangirai are reportedly bidding for leadership of the coalition, with the two parties' supporters clashing on several occasions over the presidential post.
But Khaya Moyo yesterday said any hope of a grand coalition was a dream and warned of a grand defeat of the coalition at the hands of Zanu PF.
"Let them go on dreaming of winning elections. Zanu PF is not made up of dreamers. We have sound principles, programmes and support from all over the country. The talk of the opposition winning elections is mere hot air," he said.
He dismissed insinuations that Zanu PF was at its weakest due to factional fighting, saying the ruling party remained the most popular in the country with widespread support, dismissing opposition parties as "tuckshops" with nothing to offer to the electorate.
Zanu PF is split between Team Lacoste faction, reportedly sympathetic to Vice-President Emmerson Mnangagwa, and the rival G40 camp, whose leaders are Higher Education minister Jonathan Moyo and party commissar Saviour Kasukuwere, in the race to succeed Mugabe. The two factions have, of late, been engaged in public spats, as the race to succeed the 93-year-old leader gathers momentum.