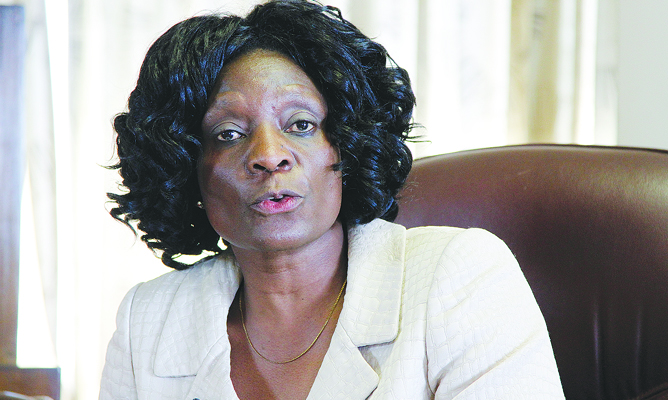 THE Zimbabwe Electoral Commission (Zec) is planning a second tender connected with the biometric voter registration (BVR) exercise, as it tries to contain the fallout over revelations that a central server containing voters' information would be managed by Israeli firm Nikuv International Projects, who are accused of rigging the last election in Zanu PF's favour.
BY BLESSED MHLANGA
In the initial tender, Zec had not said it would run two tenders, but a NewsDay exposé showed that the firm that won the tender – Laxton Group of Companies – was uncomfortable with an arrangement where they just did the voter registration and another entity was responsible for storing data.
Zec chairperson Justice Rita Makarau (pictured) tried to downplay the blunder in a Voice of America (VOA) radio interview on Tuesday, saying the commission was still to procure an intelligent central system and would not be using the system set up by Nikuv at the Register-General's Office.
"I want to make it clear that what we are buying, what we are going to use to register voters, we are buying this in two phases. The first phase, we have completed," she said.
"This is where we bought the kits, which we are going to use to collect the data. After collecting that data, we are going to put it in a machine (central system), which will help us with cleaning the voters' roll, issues like duplication.
"That machine we are going to use is the second phase of voter registration. This phase, we are yet to conduct."
However, civil society organisations and opposition parties said this was the first time that Justice Makarau had mentioned a second tender, as the integrity of the next elections has been called into question.
Justice Makarau, who is yet to respond to questions sent to her by NewsDay almost two weeks ago, told VOA that Zec would run another tender to procure the central system, which would process the data collected using the Laxton Group of Companies BVR kits.
A detailed confidential internal memo on risks on BVR prepared by Laxton's chief legal officer, Paul Bellin, for its directors, exposed Zec's duplicity in dealing with the central system.
MDC-T spokesperson Obert Gutu said Zec was only talking about the second tender because they had been exposed by NewsDay.
"We believed Laxton was going to supply the entire system to run the BVR process and not the piecemeal approach, which we now hear from Zec. You can't buy a Mercedes-Benz and power it with a Honda Fit engine. That is absurd. It can only be rigging and as MDC, we are not going to allow Zec to have its cake and eat it (too)," he said.
Gutu said MDC-T had assigned its secretary-general Douglas Mwonzora and senior official Murisi Zwizwai to engage Zec on the shock second tender.
"We are engaging with Zec to find out exactly the parameters of how and why they are running a second tender to procure the central system," he said.
"Mwonzora and Zwizwai have been specifically tasked to engage with Zec and ascertain what exactly is going on.
"The people of Zimbabwe can be assured that we are giving this matter our very urgent attention. Our ICT experts are also at hand to provide the necessary technical back-up and insight.
"The ideal situation will be that the company that won the tender to supply BVR kits should also be the same company that provides the central system," Gutu said.
Tendai Biti's People's Democratic Party (PDP) said it was shocked to hear for the first time, since BVR came into question, that Zec planned to have a second tender.
"It is shocking to hear this for the first time since the BVR tender was put in place. Zec is now shifting like offals in a dish. BVR is a complete kit. You can't procure two different systems and expect them to work as one," PDP spokesman Jacob Mafume said.
"This can only be done by people who are trying to steal an election."
He accused Zec of trying to make a simple electoral issue into a military and sensitive issue by denying stakeholders vital information on the electoral process.
"They are trying to mystify a simple issue and they could end up turning it into a military project in the basement of KGVI being run by the military when it's an entirely civilian matter," Mafume said.
Elections Resource Centre (ERC) director Tawanda Chimhini said the recent pronouncements were shocking and dangerous.
"This is scary on multiple fronts. As a country, we are already unconvinced about numerous issues pertaining to how elections will be conducted," he said.
"The vagueness around the direction in which our election is going a year before the election is very disturbing raising these questions: Is Zec in charge of the election process?
"Is Zec in control of the electoral processes? Does Zec have the capacity to understand all the necessary requirements for a credible election? Does Zec have the capacity to execute a solid plan to deliver a credible election?"
ERC called on Zec to urgently convene an all-stakeholders' meeting to formally communicate a solid roadmap to the 2018 election, allay growing fears that the commission was not ready for the next election and build consensus on priority issues for consideration.
Chimhini said there was lack of transparency in the way Zec was running its affairs in the run-up to the elections. "The opaqueness, in my view, could be deliberate. It serves a purpose. If one wants a pre-determined outcome in an election, one perpetuates uncertainty. That way, no one, but the one controlling the process, can plan and participate effectively," he said.